– TRIAL OF 7 INDIAN TERROR SUSPECTS SET FOR 07/24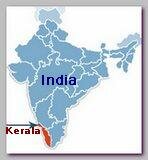 Trial of the seven youths arrested from Kerala on the charge of setting up terrorist networks in the state with the help of Pakistan-based terror group Lashkar-e-Toiba – LeT to carry out subversive activities will commence at a local court in Thalassery near here on 07/24/2009.


They are part of the 23 accused of developing a terror network with the LeT in Kashmir.
The trial proceedings, scheduled to begin today at the Thalassery Additional District Sessions court, was deferred to July 24 to facilitate an accused in the case avail legal services, official sources here said.
The well knit terror networking by persons from Kerala with the ultra outfit came to the fore with the killing of four youths from Kerala, two of them from Kannur, in an army encounter in Jammu and Kashmir in 10/2008.
.
* Related topics –
–
05/2009 -MOHAMMED NIZAR ARRESTED FOR TERROR   
04/2009 -INDIA FEARS AERIAL TERROR STRIKE  
***************-N-***************
Read more ;
–