BBC News
– 4 MARINES KILLED IN AFGHANISTAN
–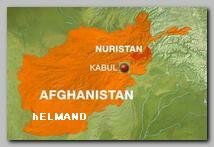 Four US Marines have been killed, on Saturday 07/11/2009, in Afghanistan in two separate improvised roadside bomb attacks, US forces spokeswoman Christina Sidenstricker said.  
Two soldiers were killed in Southern Helmand province. The location of the second event where two other marines were killed was not, yet, reported.
The latest deaths mean US forces are suffering their highest casualty rates since operations began in 2001. UK forces are also suffering heavy losses, with 15 killed in 10 days (see – Self-righteousness). US President Barack Obama has praised the ongoing military effort.
He said Taliban rebels were being pushed back as Afghanistan prepared for elections, scheduled to 08/20/2009. USA Marines and British troops recently launched Kahanjar-Operation against the Taliban in Southern regions of Afghanistan.
* Related topics –  
–
07/2009 -6 U.S SOLDIERS KILLED IN AFGHANISTAN  
07/2009 -CHILDREN KILLED IN AFGHAN EXPLOSION  
*************-N-****************
Read more ;