– SANAA CELL TRIAL
–
A group of 8 Al Qaeda activists was put on trial, on 03/21/2005, in Sanaa, Yemen's capital, on charges they had plotted a string of attacks against foreign Western institutions in Yemen such as the embassies of Italy and UK and the French Cultural Center in Sanaa. 6 of the suspects were arrested already in late 2003. Two other suspects – the Syrian brothers Mohammed Abdulwahab Khait, 24, Ahmed Abdulwahab Khait, 22 were detained a few months earlier  in a crackdown on terrorism by Yemeni authorities.
Initially the authorities arrested 13 suspects, including a woman, but the woman and 4 others were released without any charges before the trial began for lack of evidence. Police found hand grenades, military fatigues and documents showing sketches of the sites to be attacked in the property of the 8 remaining suspects.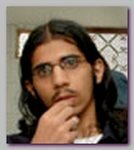 Two suspects Anwar Bayan Sadiq al-Gaylani (pic), 20, a Swiss citizen from Iraqi descent and the alleged ringleader of the cell and the Yemeni Omran Mohammed Said al-Faqih, 31, claimed they were beaten and tortured during the investigation and the court ordered they should be examined by doctors.
The prosecution said Anwar al-Gaylani lived in Kuwait and entered Yemen from Kenya in 2001 with a forged document. He also traveled to Switzerland and came back to Yemen from which he went to Saudi Arabia where he met somebody called al-Hizabr, who authorized him to attack the British and Italian embassies and the French Cultural Center in 2003.
Anwar al-Gaylani was also accused of writing a letter to Al Qaida's Saudi leadership seeking weapons and ammunition, including TNT, Sam 7 anti aircraft missiles, rocket propelled grenade launchers, mortars, mines, remote-controlled detonators and night-vision goggles.
The ringleader of the group Anwar al-Gaylani was sentenced, on 08/08/2005, to 4 years in jail, which indicated the plot was in a very early stage of planning rather then specific preparations.
Salah Mohammed Othman, 32, and Omran al-Faqih, both are Yemeni citizens, Majed Buraik Mizan, 21, a former Saudi citizen and the Syrian Mohammed Abdulwahab Khait received between 24 up to 38 months imprisonment.
Abdulrahman Ahmed Basurra, a former Saudi citizen, and Khalid Mohammed al-Batati, members in al-Tawhid Battalions, received also between 24 up to 38 months in jail. They were among the 22 escapees from Sanaa jail, on 02/03/2006.
Ahmed Abdulwahab Khait received 6 months in jail. 
.
* Related topics – 
–
05/2004 -THE LIMBURG TRIAL  
.
***************************
Read more ; 
–
YEMEN TIMES