– NAVEED AFZAL HAQ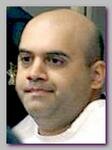 * Naveed Afzal Haq is an USA Muslim citizen from Pakistani descent. He was born on 09/23/1975.
Naveed Afzal Haq's father, Mian Haq, is a prominent Muslim American leader in Washington State, who helped found the local Islamic Center, and continues to work at the Hanford nuclear facility. Naveed Afzal Haq graduated from Richland High School in 1994.  Naveed Afzal Haq is reported to have attended dentistry school at Pennsylvania University but dropped out before graduating. He then completed a degree in electrical engineering at Washington State University (WSU), but was allegedly incapable of holding a job.
Naveed Afzal Haq was married briefly, in an arranged marriage in 2001 in Pakistan, but the marriage was apparently unconsummated, and he returned to America without his bride.
In 12/2005, although Naveed Afzal Haq was brought up as a Muslim, he converted to Christianity but soon lost his interest in the Bible. Despite his engineering degree Naveed Afzal Haq worked, at some point, as a security guard at a Seattle area department store.
In 03/2006, Naveed Afzal Haq was arrested for public exposure in a local mall. He had difficulties to socialize with people and according to local newspapers Naveed Afzal Haq struggled for years with mental illness. He also made often anti-Semitic remarks against Jews.
In late 06/2006 Naveed Afzal Haq attended his father's Islamic Center of Tri-Cities and met again the senior member Muhammad Kaleem Ullah, who bailed him out of jail in 03/2006.
On 07/28/2006, during the Israeli camping against the Hizbullah in Lebanon, which bothered him a lot, Naveed Afzal Haq entered the Jewish Federation building in Seattle using a 13 years old girl hostage to gain access into the well guard building. After entering, he allegedly began shooting. Pamela Waechter was killed and 4 other Jewish women were wounded by the shooting. 
According to witnesses Naveed Afzal Haq stated, "I am a Muslim American, angry at Israel." During the incident, Naveed Afzal Haq also talked to 911 operators, saying, "These are Jews and I'm tired of getting pushed around and our people getting pushed around by the situation in the Middle East". He also demanded that the USA withdraw its military forces from Iraq. Two days after the shootings, Haq's parents released a statement "expressing their shock and sorrow over the shootings".
On 06/04/2008, the jury found him not guilty on one count of attempted murder for victim Carol Goldman who died from her wounds, on the remaining counts, the jury declared itself undecided. The judge declared a mistrial.
* Related topics –
–
*****************************
Read more