Syria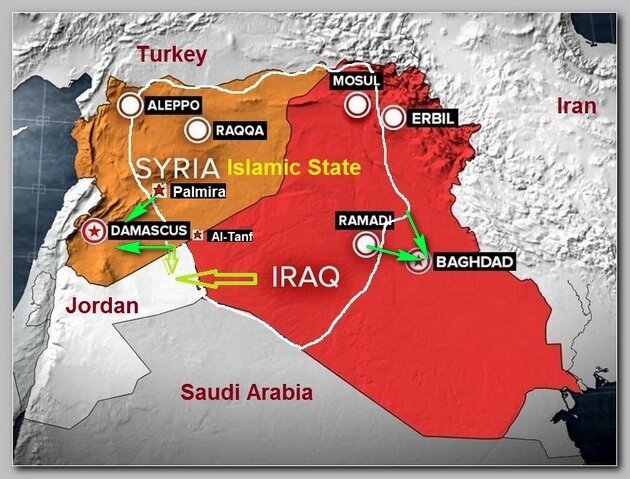 Despite Coalition continues airstrikes and despite the effort to train and arm the Iraqi Army I.S.I.S managed to capture Iraq's Anbar Province capital Ramadi, on 05/17/2015, as the Iraqi Army scuttled the city leaving behind, as in Mosul less… Continue reading →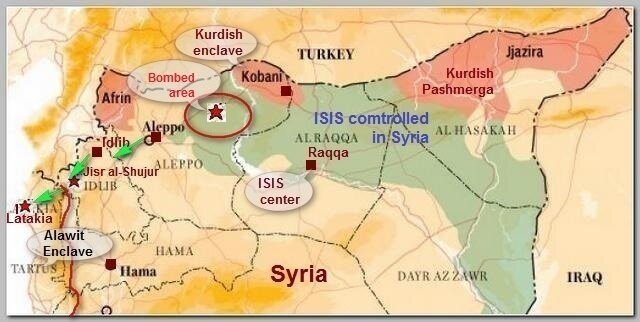 Airstrikes carried out against a northern Syrian village by USA.-led coalition forces killed 52 civilians on Friday 05/01/2015, according to Britain-based Syrian Observatory for Human Rights.  Among those dead were seven children, the activist group said.
The air… Continue reading →
According to Arab news channels – Al-Jazeera T.V Network and Al-Arabiya. on Saturday 04/25/2015 morning Israeli Air Force –  IAF planes targeted  2 weapons convoys on Wednesday 04/22/2015. The targets were the 155th and 65th brigades of the Syrian army,… Continue reading →
– 04/2015 – ISIS LOSSES & GAINS
The Pentagon says that while Islamic State – I.S.I.S – militants have lost control of up to 6,500 square miles in Iraq, they have gained a bit of ground in Syria since last August.
Army Col. Steve Warren, a Pentagon… Continue reading →
Several Hizbullah officers and an Iranian Brigadier General  were killed, on Sunday 01/18/2015, when an alleged  Israeli helicopter fired two missiles in the Syrian province of Quneitra near the Israeli Golan Heights, the group said. They were killed during a… Continue reading →
Khorasan is the name of a shadowy Al Qaeda group, popped up to the headlines in the Western media when America, in early 09/2014, launched its offensive against I.S.I.S.
Continue reading
Jabhat al-Nusra - Jabhat an-Nuṣrah li-Ahl ash-Shâm - in Arabic "The Front of Support for the People of the Sham (Greater Syria), is a branch of al-Qaeda operating in Syria and Lebanon.
Continue reading
Syrian government forces have carried out, on Wednesday 08/21/2013, a "poisonous gas" attack in suburbs of the capital, Damascus, leaving hundreds of people dead.
Continue reading
– ISRAEL LAUNCHED AIR CAMPAIGN AGAINST HIZBULLAH IN SYRIA
American security sources said, on Friday 05/03/2013, Israeli Air Force - IAF bombed targets related to the shipment of sophisticated rockets from the Syrian Army's arsenal in Damascus region to Hizbullah in Lebanon Continue reading
– ISRAEL STRUCK WEAPONS CONVOY IN SYRIA
The Syrian military confirmed, on Wednesday 01/30/2013, Israeli jets have carried out an air strike on a military research cnter in Jamraya, near Damascus. Continue reading