– 52 CIVILIANS KILLED BY U.S-LED AIRSTRIKE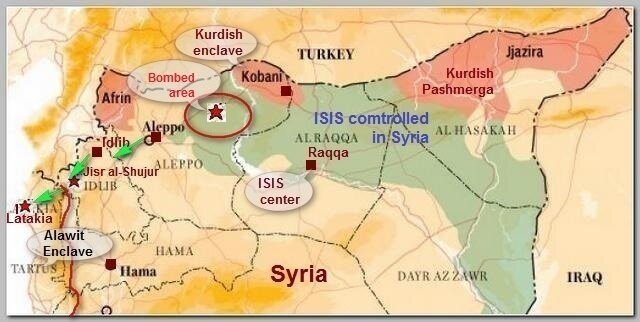 Airstrikes carried out against a northern Syrian village by USA.-led coalition forces killed 52 civilians on Friday 05/01/2015, according to Britain-based Syrian Observatory for Human Rights.  Among those dead were seven children, the activist group said.
The air strike occurred as Syrian opposition fighters and Kurdish fighters were in combat with I.S.I.S [Daesh}  militants in Aleppo province  near  Kibani. "Not a single [Daesh] fighter" was killed in the airstrikes on the village, Abdulrahman,   who runs the Syrian  Observatory, told AFP.
Koubani, on the Turkish Border, was the epicenter of bitter fightings between Kurdish "Pashmerga" militia and ISIS three months ago. ISIS was repelled due to massive US-led coalition airstrikes for few weeks .
–
** Meantime in Northwestern Syria, in the mountainous Alawite Enclave on the Mediterranean Jabhat al-Nusra led coalition continued their advance  from Jisr al-Shughur, they captured the last week, Toward the port town of Latakia, close to Bashar Assad's hometown Kardaha, deep into the Alawite controlled territories, facing bitter fighting with Iranian backed Hizbullah and Syrian Army troops. The Assad regime is in its worst situation since the Civil War in Syria began in 03/2011 in what then described as "Arab Spring "
Related topics :
04/2015 – STILL VERY FAR FROM DEFEAT
09/2014 – U.S/NATO STRATEGY AGAINST ISIS 
03/2012 – THE SHIITE ARC – MUSLIMS FRONT LINE  
12/2011 – THE ISLAMIC DECADE  
09/2011 – THE INGREDIENTS OF THE MIDDLE EAST
************
Read more ;
ALBAWABA  
DAILYSTAR 
THENEWS-PK