Islamic State – ISIS
« Previous 1
…
8 9
10
11 Next »
In a communique released on Sunday 09/14/2014, a new armed group calling itself the "Soldiers of the Caliphate in Algeria" - "Jund al-Khilafah" sworn loyalty to the new Islamic State - I.S.I.S
Continue reading
On 06/29/2014, Abu Bakr al-Baghdadi announced the establishment of a caliphate and himself as its caliph, to be known as Caliph Ibrahim, and the Islamic State of Iraq and the Levant was renamed the Islamic State.
Continue reading
Following NATO summit in Cardiff, Wales, ended on 09/05/2014, USA President Barack Obama and UK PM David Cameron with other senior European leaders agreed on a strategy to fight I.S.I.S in Iraq, Syria and the Middle East.
Continue reading
Ibrahim Awad al-Badri al-Samarrai - Abu Bakr al-Baghdadi - is believed to have been born near Samarra, Iraq, in 1971. As a teenager he was a talented football player playing for the team from the local Mosque.
Continue reading
–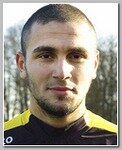 * Burak Karan was born in 1988 in the western Germany  town of Wuppertal to a family of Turkish origin. He was seen as a footballing talent with a promising future..  On 03/29/2008, aged 20,  Burak Karan played his… Continue reading →
Ansar Bait al-MaqdIs is one of several groups that emerged in Sinai Peninsula especially after the first Egyptian revolution in early 2011 tacking advantage on the general chaos in Egypt
Continue reading
Abu Omar al-Baghdadi was the person purported to be the leader (Amir) of the former Mujahideen Shura Council - Consultative Council of Mujahedeen in Iraq,
Continue reading
– HAFIZ MUHAMMAD SAEED
Hafiz Muhammad Saeed was born in the mid 50s' in the Punjab region of Pakistan. He is a professor in Islamic Studies department of Engineering in Lahore University. Continue reading
– IZZAT IBRAHIM EL-DOURI
Izzat Ibrahim al-Duri, the former trusted depute of Saddam Hussein and no' 2 in the IRAQI hierarchy, claimed to be captured, on Wednesday 04/23/2008,by IRAQI forces. Continue reading
– MOHAMMED EL-OMAR
Mohammed El-Omar was born in 1965 in Lebanon. His parents immigrated to Australia in the 1970s'. He has 6 more brothers. Continue reading
« Previous 1
…
8 9
10
11 Next »