– BURAK KARAN
–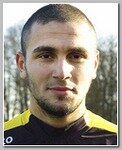 * Burak Karan was born in 1988 in the western Germany  town of Wuppertal to a family of Turkish origin. He was seen as a footballing talent with a promising future..  On 03/29/2008, aged 20,  Burak Karan played his last match for the second team of Alemannia Aachen alongside some of the most known soccer players in Germany .
Burak Karan's family blamed the Wuppertal-based Islamist Emrah Erdogan for radicalizing Karan. The two men knew each other for several years, and according to the German domestic intelligence service, Karan tried in 04/2010 to travel to Afghanistan together with Emrah Erdogan and Erdogan's brother Bunyamin. The brothers made it to Afghanistan, Burak Karan didn't.
The Dusseldorf public prosecutor in 2010 began investigating him on suspicion of preparing a major attack. A court ordered his telephones to be monitored. In 2011, Burak Karan allegedly made contact with the Austrian-Egyption Islamist Mohamed Mahmoud, in Solingen and leader of an Islamist group called Millatu Ibrahim that was banned in 05/2012
In 10/2013 Burak Karan was killed in the Northern Syrian city of Azaz fighting with the Islamic State, reportedly during an air raid. According to his brother Mustafa Burak Karan traveled to Turkey in 03/2013 together with his wife and two sons, to help distribute aid, allegedly  to help distribute aid.
But a video posted on YouTube on 10/22/2013 by an unknown Islamist group gives a different impression. It shows Karan posing with an assault rifle. A text below the video refers to him under the alias of Abu Abdullah al-Turki and says he "stormed like a lion into the area of the Kafir ( infidels ) PKK, may Allah destroy them all and took pleasure in fighting them." (PKK is the Kurdish Militia in Turkey fighting also in Kurdish enclaves in Syria ) .
Related topics ;
WESTERN JIHADISTS 
04/2011 -3 AL QAEDA SUSPECTS ARRESTED IN GERMANY   
03/2011 -FRNKFURT  SHOOTING
12/2010 -GERMAN POLICE RAIDED ISLAMISTS HOMES  
————————————–
Read more ; 
DER SPIEGEL  
WIKIPEDIA-BURAK-KARAN
l