– NOORDIN MOHAMMAD TOP ESCAPED DEATH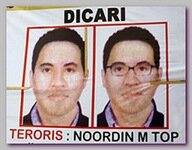 Noordin Mohammed Top, the man wanted in connection with the recent bombing of two luxury hotels in Jakarta, was shot dead, on early

Friday 08/08/2009

, after a 17 hours siege (see – Noordin Hunt) Indonesian police claimed. But d

oubts have surfaced over whether the man killed by Indonesian police in Central Java was indeed Noordin Mohammad Top.

 

DNA tests prove that the body that was recovered was not of Noordin Mohammed Top.
Eventually the killed man was identified as the fugitive Ibrohim the florist from Ritz-Carlton Hotel. "Ibrohim was a planner who was always present in the meetings with Noordin Top," police spokesman Nanan Soekarna told a news conference, on Wednesday 08/12/2009.
Noordin, one of the peoples suspected of being involved in the blasts at the Marriott and Ritz-Carlton hotels in the Indonesian capital, on 07/17/2009, was reportedly shot by the police anti-terror unite

in a remote house, outside the village of Temanggung,

in Central Java, in a shootout (see – Jakarta Investigation). The police is now looking to finally identified him through DNA samples.
Police said the anti-terror operation in the Temanggung district followed the arrest, on Saturday 08/07/2009, of several suspected militants loyal to Noordin

 

Mohammed Top (see -Saefudin Zuhri). One of the detainees was identified as Amir Abdillah who allegedly booked the Marriott hotel room used by the bombers in the days before the attacks. Amir Abdillah was arrested in a house in Bekasi, outside Jakarta. 
Noordin To's group broke away from the INDONESIAN JI after an alleged falling-out with the leadership over the targeting of civilians.
Also on Saturday, Indonesian police killed two suspected would-be suicide bombers, Air Setiawan and Eko Gepeng, who were a week away from launching an attack. Police seized up to 500kg of bomb-making material after the raid on the house in Bekasi. Two bombs have been found, which, according to police sources, were going to be used to bomb the president's house not far from where they were found.
Gen Bambang Hendarso Danuri told the Associated Press the explosives were intended for "a specific target", but gave no details. 
.
* Related topics –  
–
10/2008 -PLOT TO BLOW UP INDONESIAN FUEL SEPOT FOILED
.
***********N*************
–