– TALIBAN ATTACKED RIVALS IN PAKISTAN
–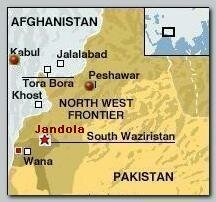 At least 70 people are reported to have been killed and dozens injured in a major battle, on Wednesday 08/12/2009, between Tehrik-e-Taleban (TTP) fighters and another tribal group in FATA tribal area of Pakistan.
The fighting in South Waziristan erupted when fighters loyal to Baitullah Mehsud, the late Pakistani Taliban chief (see – Ladha 08.05.09), attacked the followers of Turkistan Bittani, who allied with the government after defecting the Taliban. Bittani claimed that over 1,000 Mehsud fighters took place in the offence
"It was a very well-organised attack and Taliban fired with heavy machine guns, rocket-propelled grenades and assault rifles," a Pakistan intelligence official, who spoke on condition of anonymity, said on Wednesday.
"According to the initial information, 70 people have died and many more are injured while Taliban also destroyed 35 houses," he added. Most of those who died in the fighting in the Jandola area were from Bittani's fighters.
Bittani told German Press Agency DPA that 100 fighters died in the clashes while "our 40 houses have been destroyed.
The attack indicates that despite inner struggle over the TTP leadership to succeed Baitullah Mehsud the Pakistani Taliban are still quite strong enough and confident enough to launch such a big attack (see – TTP-Crisis)
Another intelligence official said government troops had started to pound Taliban fighters with artillery fire, forcing them to retreat.
The US and Pakistani officials say they are almost certain last Wednesday's strike killed the Taliban leader, but several Taliban fighters have insisted Mehsud is alive.
.
* Related topics – 
–
07/2009 -7 CHILDREN KILLED IN PUNJAB BLAST   
.
**********-N-***********
Read more ;
–