– SINAI TERROR CAMPAIGN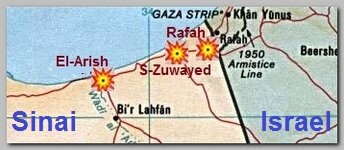 On Thursday 01/29/2015 evening – the I.S.I.S's Sinai Province, which changed its named from Ansar Bait al-Maqdas when it pledged allegiance to Islamic State,  on 11/10/2014, launched a simultaneous attack on Egyptian Army position in North-Eastern Sinai Peninsula in the cities of El-Arish, Rafah and Sheik Zuwayed (see also – El-Arish 08.07.12 ).
Rockets were first fired at police offices, a military base and a military hotel in El-Arish, before a car bomb exploded at the rear gate of the military base. Explosions smashed windows and shook residential areas, causing an electricity blackout across the city.
More than a dozen army checkpoints in the city were also targeted. Newspaper al-Ahram said its El-Arish office – which is opposite the hotel and base – had been completely destroyed. Four soldiers were wounded in an attack at a checkpoint outside El-Arish and an army major was later shot dead at a checkpoint in Rafah, medical and security sources said. In a separate incident a police officer was killed when struck by a bomb in the canal city of Suez.
at least 45 people, mostly soldiers, were killed in the series of attacks. Most of the casualties were in the provincial capital, El-Arish. More than 60 people were wounded. Militant group Sinai Province said it carried out the "extensive, simultaneous" attacks.
Egypt's president cut short a visit to Ethiopia because of the attacks.  
They represent some of the worst anti-government violence in Egypt for months, and indicate a previously unseen level of coordination, correspondents and analysts say.  
Tensions have also been raised across Egypt earlier this week amid protests marking the anniversary of the 2011 uprising that ousted then-leader Hosni Mubarak. over 20 people were killed by police fire mainly in Cairo and Alexandria.
* Related topics :
 09/2013 – EGYPT MISSILES ATTACK KILLED 15 ISLAMISTS
09/2013 – 11 EGYPTIAN PERSONNEL KILLED BY SUICIDE BOMBERS
08/2013 -24 EGYPTIAN POLICEMEN KILLED IN SINAI PENINSULA
07/2011 -EGYPTIAN GAS PIPLINE BLOWN UP THE THIRD TIME
****************************
Read more ;