– EGYPT MISSILES ATTACK KILLED 15 ISLAMISTS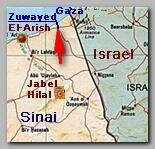 Egyptian helicopter gunships, on Tuesday 09/03/13, have fired rockets at armed groups based in Egypt's northern Sinai Peninsula, causing dozens of casualties, killing 15 people and injuring dozens according to a security official and Egyptian state TV report.
The security source said the two aircraft on Tuesday surprised gatherings of fighters in three houses in two locations, al-Muqataa and Touma, south of the town of Sheikh Zuwayed near the border with the Gaza Strip (see also – Zuwayed 04.10.09 ).
Attacks on security personnel have surged in Sinai after the toppling of Egypt's President Mohamed Morsi on07/03/2013 (see – EGYPT'S III REVOLUTION ).
A witness said the three houses were destroyed and part of a nearby mosque was damaged. Also in Sinai, army commandos arrested late on Monday two members of an al Qaeda-linked group, known as the Mujahideen Shura Council, that had in the past fired rockets at Israel, another security official said.
Security forces have a long list of wanted men who are believed to be concentrated along the border area with the Gaza Strip and Israel and in the central Sinai mountains.
The Mujahideen Shura Council claimed several rocket attacks on Israel (see – Eilat 04.17.13 ), the latest on 08/13/2013. Israel said then that its defence system, the Iron Dome, had shot down a rocket launched from Egypt targeting the Red Sea resort of Eilat. An official, who spoke on condition of anonymity according to rules, said the two were experienced in setting up and firing the rockets used in the attacks.
* Related topics ;
***************************