24 EGYPTIAN POLICEMEN KILLED IN SINAI PENINSULA
24 EGYPTIAN POLICEMEN KILLED IN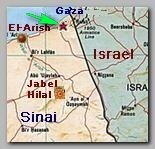 At least 24 Egyptian policemen have been killed, on Monday 08/19/2013, in an ambush attack near Rafah in North-West Sinai Peninsula amide growing military effort to crackdown on pro Al Qaeda Jihadists in the Peninsula and ongoing unrest in Egypt following EGYPT'S III REVOLUTION. the attack occured a year after the Kerem Shalom Raid.
Medical sources and officials said the police were in two buses which came under attack from armed men close to the town of Rafah on the Gaza border (see – Rafah Tunnels).
A state of emergency is in force across Egypt amid wider political turmoil following a military crackdown on Islamists in which hundreds have died.
Just a day earlier 36 protesters died in a prison van on Sunday in what authorities said was an breakout attempt. The recent violence has caused an international outcry.
EU foreign ministers are meeting on Wednesday to decide whether to cut some of the billions of euros in aid pledged to the country. But Saudi Arabia has reportedly said it "will not hesitate to help" Egypt's interim government (see – New Dimension).
There were conflicting reports about how Monday's attack in the Sinai unfolded.
Security sources quoted by the Associated Press news agency say four armed men stopped the buses and forced the police to get out before shooting them. But other reports spoke of rocket-propelled grenades being fired at the buses. Three policemen were also reported to have been injured in the blast.
More than 830 people, including 70 police and soldiers, are reported to have been killed since Wednesday 14/08/2013, when the army cleared protest camps set up by Morsi supporters, many of them members of the Muslims Brotherhood movement.
The Brotherhood said the interior ministry had "decided to betray its trust and ignore its role" and had killed the detainees "for their opposition to the bloody military council".
It said the "heinous crime shows the total disregard of the right to life by these murderous fascist thugs" and raised concerns about the safety of the hundreds of pro-Morsi activists now in detention.
Wednesday's meeting of EU foreign ministers was agreed during preparatory talks with senior diplomats in Brussels.
* Related topics ;
******************************
Read more