– U.S TROOPS KILLED TWO MILITANTS IN SOMALIA
–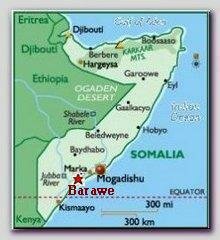 U.S. Special Operations helicopter gunships, launched off a Navy vessel in the Indian Ocean have staged an attack on militants in Somalia, killing at least two militants, including Saleh Ali Nabhan, on Monday 09/14/2009.
The troops, who according to some reports had uniforms with French insignia, attacked a vehicle carrying Islamists from the al-Shabab group. A French military spokesman denied its forces were involved.
Witnesses said the soldiers took away two men, and there were two bodies left in the road after the attack in the southern coastal town of Barawe, South of Mogadishu.
Unconfirmed reports claim that top Al Qaeda suspect Saleh Ali Nabhan was killed in the attack.  Reuters and Spanish news agency Efe reported witnesses and al-Shabab sources as saying Kenyan-born Nabhan – who has been on the FBI's most-wanted list for years because on his involvement in the bombing of the USA Embassy in Nairobi, on 08/07/1998 and the Mombasa Paradise bombing – was killed.
The assault comes several weeks after a French security adviser, Marc Aubriere, held by militants in Mogadishu managed to get free. A colleague seized at the same time remains in captivity.
.
* Related topics –  
–
07/2009 -AL-SHABAB BARS UN AGENCIES 
.
************N************
 Read more –
–