– MONER MOHAMMED ABU SALHA – US SUICIDE BOMBER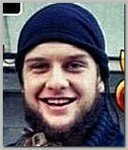 Moner Mohammad Abu-Salha, 22,  originally from Florida, also known as  'Abu Haraya Al-Amriki' believed to be the first American involved with suicide attack in Idlib province of Syria in 05/2014, fighting in the ranks of Jabhat al-Nusra .
The New York Times reports that a Moner Abu-Salha, who's Facebook profile picture was reportedly the same face as the picture tweeted by a cleric allied with Jabhat al-Nusra, showed that he was a Floridian that held a keen interest in Islamic topics (The profile could not be found at this time.)
In a check of public records performed by New York Times reporters, Moner Abu-Salha had previously lived in Fort Pierce and Vero Beach, Florida. Both areas are approximately 100 miles north of Miami.  
Moner Abu-Salha attended Sebastian River High School and played on the Indian River Warriors youth basketball team in 2007.   
Moner Abu-Salha was brainwashed and recruited by a terror cell in the Texas according to a family member. He was given financial support to travel across the world to join fighters trying to topple the Syrian Government with the money coming from a terror cell based in Texas.
According to his  uncle Monerabu-Salha's transformation from all American boy to suicide bomber began in 10/2012. He flew from Orlando, Florida, to Germany and then on to Turkey where he slipped across the border into Northern Syria.
Two months later (early 2013,  Moner abu-Salha turned up at his grandparents home in Amman, Jordan's capital,  at 1am. Abu Salha stayed four months and, according to the uncle, showed no signs of wanting to go back and join the jihadists fighting in Syria.  
On 05/12/2013 he flew to Florida for an emotional reunion with his family. But a month later he disappeared and fled to Texas, texting his mother that he was well. In January 2014 and again in March 2014 Moner abu-Salha called home from Syria  saying he is fine.
** Actually the first American suicide bomber was Shirwa Ahmed who killed himself and 29 others, on 10/28/2008, in Mogadishu, Somalia.
Related to[ics ;
03/2015 – ABU DAWUD AL-AMRIKI THE SUICIDE BOMBER   
07/2011 – SOMALI AL-SHABAB RECRUITED DOZENS AMERICANS  
10/2010 – AMERICAN JIHADISTS  
2009 – ABU MANSOUR AL-AMRIKI  
 **************************
Read more ;
DAILYMAIL-1
DAILYMAIL-2  
BUZZFEED