– A THIRD FOOTAGE THREATENS GERMANY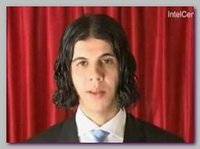 A third Al Qaeda video message threatens Germany within a week (see –Harrach 09.18.09 ) , was posted in the web on Thursday 09/24/2009, shows that Germany must remain on alert before weekend parliamentary elections, officials said.
Authorities are analyzing the third message, which calls on Muslims in Germany to take part in jihad, or holy war, German Interior Ministry spokesman Stefan Paris told reporters.
In the message a masked person presumed to be Bekkay Harrach, who uses the pseudonym Abu Talha, speaks about piety and service to Allah. German authorities and international intelligence groups said they believe all three German-language videos were made by Bekkay Harrach.
Police in Stuttgart said a 25-year-old Turkish man had been arrested Thursday for replanting the video on the Internet. The suspect had been under surveillance for previously supporting Islamist causes, and "has not created the video himself and it is not yet clear where he obtained the video from," police spokesman Stefan Kalbach said.
The USA State Department issued a Travel Alert on Wednesday cautioning Americans to be careful in coming weeks in Germany.
"Americans are advised to monitor news reports and consider the level of security present when visiting public places or choosing hotels, restaurants and entertainment and recreation venues" in Germany, the alert said.
* German authorities banned all flights over Munich's annual Oktoberfest beer festival, on Saturday 09/26/2009, as a precaution measure.
.
* Related topics – 
–
07/2009 -MARWA SHERBINI STABBED TO DEATH IN GERMANY  
.
************-N-***************
 Read more ;
–