– 5 U.S SOLDIERS KILLED IN AFGHANISTAN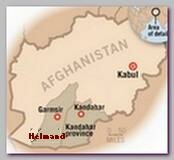 Five US soldiers have been killed in three separate attacks across southern Afghanistan, the US military has said, on Friday 09/25/2009.
Three died in a roadside explosion, while another was shot by militants. Another soldier was killed after his patrol was attacked. In a statement, the USA military said that all five servicemen died on Thursday 09/24/2009.
The year 2009 has been the deadliest for foreign troops since the US-led invasion overthrew the Taliban in operation Absolute Justice, in 12/2001. The month of 08/2009 was the deadliest for US forces since the war with the Taliban began in 2001.
More than 30,000 extra US troops have been sent to Afghanistan since President Barack Obama ordered reinforcements in May. Most of them have been deployed in the south of the country, considered to be the Taliban's heartland.
In yet another development the UK Defense Ministry confirmed on Friday that Maj. Gen. Andrew Mackay

resigned from army.

News reports suggested he was unhappy about support for British forces in Afghanistan or plans for restructuring the army (see – CAN'T WIN THE WAR ).
.
* Related topics – 
–
09/2009 -STEPHNE FARRELL RESCUED IN AFGHANISTAN  
.
**************N**************
 Read more –
–