– TWO CAR BOMBS KILLED OVER 12 IN PAKISTAN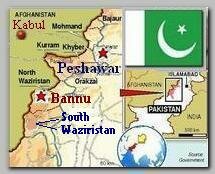 6 police officers were killed in a police station in Bannu, North Waziristan, on Saturday 09/26/2009 morning, when a car, driven by a suicide bomber slammed into a local police station.  A number of people are thought to be trapped in the rubble.
The attack comes a day after 12 suspected militants died in a US UAV missile strike in North Waziristan, on Friday 09/25/2009. The new leader of the Tehrik-e-Taleban – TTP, Hakimullah Mehsud, warned of suicide attacks if the government acted against them.
Few hours later a second car bomb exploded in a commercial area in Peshawar, the administrative capital of FATA region, killing at least 6 more by passers.  
Hakimullah Mehsud emerged, recently, as the most dangerous Islamic insurgence leader in Pakistan.

  
* Related topics –  
–
09/2009 -NASIM SHAH ARRESTED IN PAKISTAN 
.
**************N*************
Read more –
–