– 23 KILLED IN TUNIS BARDO MUSEUM ATTACK
Armed men have killed, on 03/18/2015, seven tourists and a Tunisian citizen in an attack on a museum in Tunisia's capital Tunis, according the Interior Ministry spokesperson.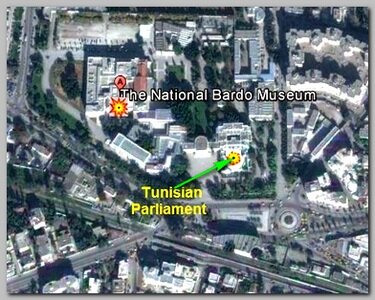 "There are eight victims", including "seven foreigners", Mohamed Ali Aroui, the ministry spokesperson, said. "Forces are being deployed. There are two or more attackers and hostages are still being held." He added that the assault was carried out by "terrorists armed with Kalashnikovs".
The Bardo Museum is located adjacent to the museum. It was evacuated right after the attack and politicians said gunfire could be heard at the scene, according to state TV reports.
Journalist Yasmine Ryan, reporting from Tunis, told Al-Jazeera that ambulances are going in and out of the museum area cordoned off by the security forces. "More than 15 police officers on guard at the entrance of the museum and all roads leading to the area are cordoned off," she said.  
The attack came a day after the Tunisian security authorities said Ahmed Rouissi, a leading Tunisian militant, was killed in Libya.
19 people, including 17 foreign tourists, have been killed after gunmen, dressed in military uniforms,  targeted a museum in the Tunisian capital, the prime minister Habib Essid saId later, at about 17:00 local time. .Italian, Spanish, Polish and German citizens were among those killed, as well as a Tunisian and a police officer, PM Habib Essid said. Media reports suggest the death toll could be as high as 22.
Security forces killed two gunmen and were searching for accomplices, the prime minister added.
Indeed Interior ministry spokesman Mohamed Ali Aroui told AFP later in the evening"There are 22 dead including 20 South African, French, Polish and Italian tourists," Security forces were surrounding at least two militants in the museum in central Tunis, a venue that is often packed with foreigners, the interior ministry spokesman added.
—————————–
Tunisian Prime Minister Habib Essid said, on Thursday 03/19/2015, one of the two gunmen in a deadly attack on the capital's Bardo museum, identified as Yassine Laabidi (pic) and Hatem Khachnaou, were  known to intelligence services, the Associated Press reported. Both  were killed by security services in a raid after they attacked the museum.
Tunisia's health minister placed the death toll in Tunisia's deadliest attack in 13 years at 23 people, including 20 foreign tourists, according to radio station Mosaique FM.
It's unclear what jihadist movement Yassine Laabidi and Hatem Khachnaou belong to. But I.S.I.S seems to at least have had prior knowledge to the attack. A pro-ISIS Twitter account tweeted this prior to the attack:
–" Coming good news to Tunisia's Muslims, and a shock to the disbelievers and the hypocrites, especially those who claim to be cultured "–
Both Labidi and Khachnaoui returned to Tunisia from Libya 3 months ago. They reportedly belong to the jihadist group Katibat Okba Ibn Nafaa, which is simply a new name for the Ansar al-Shariaa group led by Abu Iyadh.  Abu Iyadh is the leader of Tunisia's ultra-conservative sharia law movement.
Eventually, on Thursday 03/18/2015 evening ISIS claimed responsibility for the bloody attack In an audio message posted online, ISIS said "two knights from the Islamic State [ISIS]… heavily armed with automatic weapons and grenades, targeted the Bardo Museum."
The two gunman went through training  in the western Libyan town of Sabratha, near Tripoli  in January 2015. at the same camp and at the same time as Seifeddine Rezgui, the Sousse Shooter, on 06/26/2015, it emerged on 07/01/2015.
——————————-
**  According to the Tunisian authorities, on Friday 03/20/2015, 9 people have been arrested in connection with the Bardo Museum shooting.  Tunisia's presidency said four of those arrested were directly linked to the attack and five had "ties to the cell".
** According to Tunisia's president in an interview  on Sunday 03/22/2015, a third unidentified suspect is on the run. .
** Tunisia said, on Thursday 03/26/2015, that it has arrested 23 suspects, all Tunisians, in connection with the Bardo Museum attack. Another Tunisian, Maher Ben Mouldi Kaidi (pic), is alleged to have provided the automatic weapons two Moroccans and an Algerian suspected of being members of the cell were on the run. The head of the cell was among those arrested and identified as Mohamed Emine Guebli.

Interior Minister Najem Gharsalli told journalists the Bardo Museum attack was organised by an Algerian jihadist named Lokmane Abou Sakhr, one of the leaders of the Al-Qaeda-linked Okba Ibn Nafaa Brigade,  blamed for a series of ambushes and attacks against security forces that have left some 60 dead since the end of 2012.the main Tunisian armed group active along the border with Algeria.  The statement questions the claim of responsibility for the attack from Al-Qaeda's jihadist rival, I.S.I.S.  But AQIM (Al-Qaeda in the Maghreb) has not responded since IS claimed responsibility for the attack, which would be its first in Tunisia.
** Tunisia's Prime Minister Habib Essid said, on Sunday 03/29/2015, a leading suspect in a deadly museum attack,   the Alerian Khaled (Abu Sakhr) Lokman, has been killed in anti-terrorist operations with other 8 terrorists near Qasserine Pass, in the mid-Weast, a geographical passage between Tunisia and Algeria.  Khaled (Abu Sakhr) Lokman was also implicated with the death of several Tunisian soldiers and National Guard troops in Jabel Chambi  in 07/2014.
Related topics ;
 02/2015 – ISLAMIC COUP FOILED IN TUNISIA  
2013 – ANSAR AL-SHARIA IN TUNISIA 
03/2012 – THOUSANDS RALLY FOR "SHARIAA LAW" IN TUNISIA 
01/2011 – THE JASMINE REVOLUTION
 **************************
Read more ;
BBC NEWS                                          AL-JAZEERA
ALARABIYA                                       DAILYMAIL
MORE-ALARABIYA                        MORE BBC NEWS
HEAVY.COM                                     AL-JAZEERA
BBC MORE NEWS                           BUZZFEED
DAILYMAIL-B                                   KAPITALIS
THEGUARDIAN