BBC News
– HUNDREDS YAZIDIS EXECUTED BY ISIS IN IRAQ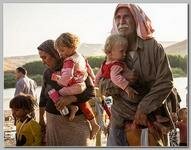 A statement from the Yazidi Progress Party, on Friday 05/01/2015,  said 300 Yazidi captives were killed in the Tal Afar district near the city. Thousands of members of the religious minority group, a mixed of early Christianity and Persian faith and  considered infidels by I.S.I.S.
were captured last year.  Many are reported to have been held in Mosul, the main stronghold of IS after the militants swept through large areas of northern and western Iraq, and eastern Syria in 2014.
It is not clear how they were killed, or why this has happened now, says the BBC's Middle East editor Alan Johnston.
Related topics ;
–
04/2015 – 5 LIBYAN REPORTERS SLAUGHTERED BY ISIS   
04/2015 – MORE MASS BEHEADING OF CHRISTIANS IN LIBYA  
04/2015 – ABOUT 300 TEENS AND WOMEN RESCUED BY NIGERIAN ARMY 
08/2007 – ABOUT 500 YAZIDIS KILLED IN IRAQ 
************************
Read more ;