– THE TALIBAN OFFENSIVE ON KUNDUZ , NORTHERN AFGHANISTAN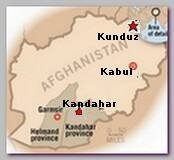 While the eyes of the world are on the Middle East and the battlefield between Sunnis and Shiites, between Jihadists and nationalists and between them and the Western Democracies the war still rages on in the old battlefield of Afghanistan between the Taliban and I.S.I.S international volunteers and the USA supported regime in a chaos that resemble Iraq  Only a few thousand NATO-ISAF troops remain in the country, largely in training roles, after their combat mission ended in 12/2014.
The Taliban is closing on Kunduz  in recent fighting, leaving it cut off and displacing tens of thousands. Afghan officials say foreign jihadists trained by the Islamic State – I.S.I.S  are fighting alongside the Taliban.
Provincial governor Mohammed Omer Safi told the BBC, broadcasted on 05/07/2015, that the bodies of 18 foreign fighters, including three Chechen women, had been found.
Security forces and Taliban have been involved in a stand-off for about a week after the insurgents launched an offensive on Kunduz at the end of 04/2015.This is the first positive confirmation by a senior government official that ISIS is operating alongside the Taliban in Afghanistan.
As well as from Afghanistan's immediate northern neighbours, Tajikistan, Uzbekistan, and Kyrgyzstan, the dead came from Chechnya and Turkey. They were wearing black headbands marked with the same Islamic verses used by ISIS in Syria and Iraq.
Correspondents say the advance is the most serious threat to a provincial capital in years. Taliban and their allies have also attacked remote outposts in the mountains of Badakhshan further east as the prospect of yet another humanitarian crisis is on the rise. .
Afghan army and police are involved in the fighting but there is no substantial help from foreign troops.
Related topics :
–
08/2012 – TALIBAN'S VICTORY  
02/2011 – 30 KILLED IN KUNDUZ SUICIDE BLAST  
06/2010 –  GEN' PETRAEUS'S MISSION 
08/2009 – NEW "WINNING STRATEGY" IN AFGHANISTAN
**************************
Read more ;  
BBC NEWS  
RFERL-RADIO  
SHANGHAIDAILY