– AL-NUSRA, ALLEGEDLY, AIMING ONLY AT ASSAD'S REGIME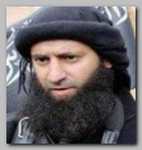 Al Qaeda's affiliate in Syria, Jabhat al-Nusra,  has been ordered by the jihadist network not to use the country to launch attacks on the West, the group's leader Abu Mohammed al-Julani (pic) has said. But his statements did include a warning against the USA over its attacks on the armed group, which has been blacklisted a "terrorist organisation" by the US.
"Our options are open when it comes to targeting the Americans if they will continue their attacks against us in Syria. Everyone has the right to defend themselves," al-Julani said.
In an interview with Al-Jazeera T.V Network , broadcasted on 05/27/2015 night. Abu Mohammed al-Julani said al-Nusra Front was focused on capturing Damascus and toppling President Bashar al-Assad. He also promised to protect Syrian minorities that disavowed Mr Assad.
Rebel fighters are now advancing on the Mediterranean coastal province of Latakia, a stronghold of the president and his heterodox Shia Muslim Alawite sect.
The hour-long interview with al-Julani broadcast on Wednesday night was his second with Qatar-based Al Jazeera tv since 2013, when al-Nusra Front split from what is now known as the  Islamic State – I.S.I.S.
It was not clear where it was filmed and Julani's face was not shown. He sat on an ornate chair opposite the interviewer, Ahmed Mansour, with his back to the camera. The al-Nusra leader also denied claims by the US that it had a secret cell called the "Khorasan Group" that was tasked with plotting attacks outside Syria.
The recent successes of Jabhat al-Nusra in Northern Syria and around Damascus are ascribed to the growing support in funds, ammunition and relative modern weapon supplied by Qatar (the owner of Al-Jazeera), Saudi Arabia and Turkey, The interview is, probably, an attempt to calm and tp pacify the USA and the Western Democracies that Jabhat al-Nusra is not a threat to the West but only to Assad's regime.
Eventually the basic wherefore of a  al-Qaeda is the Western culture and especially the USA and the competition with I.S.I.S over the devotion and excitement of the young Muslim generations will, inevitably, force the Al-Nusra front  to confront the West otherwise their men will switch sides to the Islamic State.
Related topiics ;
04/2015 – ISIS LOSSES & GAINS  
09/2014 – ISIS THRIVES – JUND AL-KHILAFA  
09/2014 – WESTERN JIHADISTS 
07/2012 – AL-NUSRA CLAIMED RESPONSIBILITY FOR ATTACKS IN SYRIA
*************************
Read more ;
BBC NEWS  
AL-JAZEERA  
ABC.NET.AU