– US- TRAINED TAJIKI SPECIAL POLICE CHIEF JOINED ISIS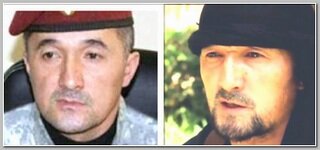 Police Colonel Gulmurod Khalimov, 40, the Tajikistan's Police Special Operations Chief, has appeared, on Wednesday 05/27/2015, in a 10 minutes video claiming to have joined I.S.I.S forces in Syria.   Khalimov said he had been trained by elite Russian "Spetsnaz" forces in Moscow and USA Special Forces in America.
Gulmurod Khalimov is seen in the footage dressed in black and holding a gun. He went missing in early May 2015. he says he joined IS in protest at Tajikistan's policy towards religion, which he says is anti-Islamic.In the video, which is believed to have been recorded in a Syrian camp, Khalimov said he plans to return to Tajikistan and "bring slaughter"..
Hundreds of Central Asians are thought have left for Syria, but this is the first known case of such a high profile officer joining the militants.
Gulmurod Khalimov, used to fight extremists at home and was one of the best USA trained officers in Tajikistan.
Khalimov voices his disillusionment with the Tajik police and talks about the hardship of thousands of Tajik working migrants in Russia.
The news of a high profile Tajik commander joining IS is bound to have shocked Tajikistan's authoritarian government. YouTube – where Gulmurod Khalimov's video could be seen – was blocked almost immediately. So far no officials have been available for comment.
Tajiki  militants now battling Afghan security forces just across the border in Afghanistan, the authorities in Dushanbe will be extremely concerned about the wider implications since Khalimov's position and profile are significant enough to potentially influence other members of the security forces.
The American  International Crisis Group think tank estimates about 4,000 Central Asians fight for Islamic State.
Related topics ; 
05/2015 – $20 MILLIONS FOR 4 ISIS TOP LEADERS     
04/2015 – U.N – 25,000 fOREIGNERS JOINED ISLAMIST MILITANCY  
09/2010 – 23 TAJIK SOLDIERS KILLED BY ISLAMISTS  
98/2010 – 25 MILITANTS ESCAPED FROM TAJIKISTAN JAIL  
****************************
Read more ;
BBC NEWS  
JIHADWATCH  
BUSINESSEINSIDER