– THOMAS EVANS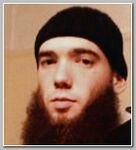 * Thomas Evans was born in 1990 in Wooburn Green, Buckinghamshire, UK. According to his mother Thomas Evans had been suffering from depression and "stressed out" with personal issues when he was approached by a group of "young Muslims", who did not belong to a particular Mosque and had a "very poisonous interpretation". Thomas Evans converted to Islam when he was 19 (2009) and adopted the Islamic name Abdul Hakim. He he started going to a local  small prayer centre.
At the age of 21, Thomas Evans announced he was moving to Kenya and bought a single plane ticket. He was turned back at the airport by police, but later sold his CDs and other possessions and told his family he was travelling to Egypt.
In 08/2011, police told the family they had lost track of him. Thomas Evans contacted his family in 01/2012 to say he had travelled to Somalia to join the militant group al-Shabab. He was killed, on 06/14/2015, fighting kenyan forces in the Lamu Raid.
At least 50 British citizens are believed to have joined al-Shabab, an al-Qaeda affiliate based in Somalia, which has been behind a series of high-profile attacks in Kenya and Somalia (see –WESTERN JIHADISTS )
.
Related topics :
02/2015 – 'JIHADI JOHN' IDENTIFIED AS MOHAMMED EMWAZI 
03/2012 – LONDONER CLIVE DENNIS ARRESTED IN MOGADISHU 
01/2012 – MOMBASA PLOT – SAMANTHA LEWTHEWAITE   
PROFILE – BILAL AL-BERJAWI
*********************
Read more ;