– ALMADOW OPERATION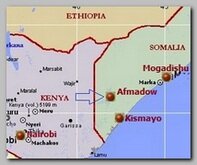 About 3 years after the last Ethiopian soldiers left Somalia, on 01/13/2009, USA boosted its efforts to use African foreign troops to fight al-Shabab in Somalia (see – Ethiopian-Somali War). African peace keeping force – AMISOM, with 12,000 troops, already operate in Somalia alongside pro-Western government forces to oust al –Shabab from Mogadishu area and central Somalia with limited success. Al-Shabab retaliated with terror attacks in Uganda and Kenya also with limited success (see – Kampala Bombings ). Uganda has a strong presence in AMISON. 
Recently, following the famine in Southern Somalia controlled by al-Shabab, North-Eastern Kenya is flooded with refugees from Somalia with a large number of al-Shabab operatives mingled in the ongoing stream of refugees. 
On Sunday 10/16/2011 a Kenyan regiment backed by helicopters and tanks entered to the border region on the Somali side, allegedly to create a security buffer zone inside Somalia. Officials in Somalia also said that jets had bombed al-Shabab camps, though Nairobi would not confirm the jets were theirs. 
The troops are reportedly advancing towards Afmadow, a town about 120km east of the border. Kenya's government says they have been ordered to attack al-Shabab bases in southern Somalia. 
Analysts suggested that the second phase could be the Southern port town of Kismayo, which functions as the capital of al-Shabab and their main source of income. 
It is reasonable to assume that the Kenyan troops are backed and supported in many ways by the USA since the Kenyan military capabilities are not sufficient to sustain long guerilla warfare with al-Shabab and a terror campaign inside Kenya simultaneously. Certainly The Kenyan military capacity very far from the Ethiopian abilities to cope with guerilla in Somalia.  
Fighters from Al-Shabab will attack Kenya unless it withdraws its troops from Somalia, a spokesman for the group has warned on Monday 10/17/2011. Analysts say the group will, indeed, try to follow through on its threat. 
Claims about the Kenyan offensive could not be independently verified, and Kenya's defence ministry did not respond to a request for comment. Somalia's transitional government has endorsed the raid: Nur Ahmed, the Somali ambassador in Nairobi, said Kenya "has a right to defend its people." 
* Eventually Islamist militants in Somalia said, on Saturday 09/29/2012, they have withdrawn from their southern stronghold of Kismayo, following Kenyan and African Union (AU) military attack (see – Kismayo Offensive ). 
* Related topics ;
10/2011 –

UGANDA ISSUED TERROR ALERT

 

12/2010 –

3 KILLED IN NAIROBI BUS BLAST

 
******************************
 Read more ;