– YASSIN SALHI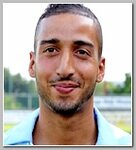 * Yassin Salhi, the Grenoble killer, was born in 1980 in France. He is married and a father of three. age 6-9.  In the recent years, prior to the Grenoble Terror attack, Yassin Salhi lived in the suburb of Saint Priest in Lyon and worked as a delivery driver .
Yassine Salhi had been under surveillance by the French secret services in Lyon in 2006 for radicalisation and joining Salafi circle in the region but this investigation was not renewed in 2008, because he attended a "very radical" mosque and prayer centres in Lyon, according to Roland Jacquard, of the French  International Observatory of terrorism. One prayer centre he attended in particular was known for its links to an unnamed terrorist group at the time, he said (see also – Lyon Cell ).
After the Grenoble attack Yassin Salhi sent a selfie where he posed with the severed head of his boss, Herve Comara, 54, security sources said.
Yassin Salhi was arrested on the spot of the terror attack in Grenoble, on 06/26/2015. by  a local fireman. Yassin Salhi was not known to be involved in previous terror attacks. His wife and two others have been arrested soon after the attack.  she had apparently called Europe 1 radio station that she had been calling him with no answer.
**  Based on the finding that Yassin Salhi sent  a 'selfie' photo with himself with the severed head of his victims  via WhatsApp to a number in Canada,  officials believe  was likely a relay number they assume that Yassin Salhi was, somehow, connected to a broader circle .
Related topics ;
04/2015 – SID AHMED GHLAM PLANNED ATTACKS ON CHURCHES
PROFILE – MEHDI NEMMOUCHE 
PROFILE – AMEDY COULIBALY   
PROFILE – HAYAT BOUMEDDIENE  
PROFILE – MOHAMMED MERAH – THE TOULOUSE SHOOTER
***********************
Read more ; 
TELEGRAPH-UK 
DAILYMAIL
TIMESOFISRAEL