– 64 KILLED IN JOS, CENTRAL NIGERIA
–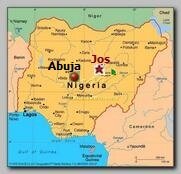 Two bomb attacks on the central Nigerian city of Jos, on Sunday 07/05/2015 night,  have left at least 44 people dead, the authorities say.A restaurant and a mosque were targeted. No-one has claimed responsibility but militant group Boko Haram has attacked Jos before, even though it is not in north-east Nigeria where the Islamists normally operate.
Sheikh Muhammad Sani Yahya Jingir, the Imam of the Mosque and probably the main target, who survived the attack, has been preaching against Boko Haram since 2010. He has survived a previous assassination attempt at his home.
The blasts are the latest in a series of deadly attacks in recent days which have seen more than 200 people killed. The attacks came shortly after the Ramadan fast was broken, with both sites full of people.
Of the 44 dead, 23 were killed at the restaurant and 21 at the mosque, Nigeria's National Emergency Management Agency (Nema) says.
There are also 47 people being treated for injuries, but emergency officials are still gathering information, so the figures may rise.
Jos has seen several attacks blamed on Boko Haram, including an incident in February when at least 15 died and in 12/2014 when more than 30 people died.
Rekated topics ;
07/2015 – ABOUT 150 KILLED IN BOKO-HARAM'S RAMADAN OFFENSIV
06/2015 – NIGERIAN LED FORCE TO FIGHT BOKO HARAM TO BE SET UP
04/2015 – BOKO HARAM'S LAST STAND IN SAMBISA FOREST
03/2015 – BOKO HARAM PLEDGES ALLEGIANCE TO ISIS  
—————————
Read more ;