BBC News
– OVER 100 KILLED IN EID BOMBINGS IN IRAQ
–
– Eid el-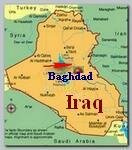 Fiter is the closing holidays of the Holy Month of Ramadan lasting 4 days, The Islamic State seized the "opportunity" and claimed responsibility for a car bomb that killed at least 100 people in the Iraqi town of Khan Bani Saad. The bomb had exploded as people celebrated the end of Ramadan – Eid el-Fiter- in the town. I.S.I.S claimed responsibility for the attack on Twitter and said the car was carrying around three tonnes of explosives.
Angry crowds went on the rampage after the explosion, smashing the windows of cars parked in the street in grief and anger.
The explosion took place about 20 miles northeast of Baghdad.
Related topics :
06/2015 -U.S LACKS FULL STRATEGY !?
05/2015 – ISLAMIC STATE OVERSHADOWS THE MIDDLE EAST
03/2015 – THE CONFUSION OVER THE BATTLE OF TIKRIT
03/2015 – HUNDREDS YAZIDIS EXECUTED BY ISIS IN IRAQ
——————-
Read more ;