– LEON DAVIS SENTENCED TO 15 YEARS FOR TERROR
–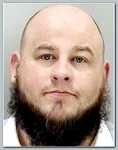 USA citizen Leon Nathan Davis III, 38, was sentenced, on 07/28/2015, to 15 years in prison after pleading guilty in 05/2015 to seeking to aid the Islamic State.
Leon Davis was arrested at the airport in Atlanta, Georgia in 10/24/2014, trying to board a plane bound for Turkey. He later told investigators his plan was to be smuggled into Syria where he was to join I.S.I.S (Daesh) as a recruiter and English teacher, AP reported. Leon Nathan Davis had a family and a sales job — and says he left them behind last fall with a one-way ticket overseas and a plan to join ISIS. Leon Davis married within the past two years and has a stepdaughte
Assistant US Attorney Carlton Bourne told AP a year prior to purchasing his plane ticket, Davis posted online: "One of my greatest desires is to kill Zionists and bring down Israel and the United States of America."Charging documents say Leon Davis, After converting to Islam, while imprisoned for cocaine trafficking a decade ago. he used the names Abdul Wakil Khalil and/or Abu Hurairah Al Amreeki.
During his sentencing, Leon Davis said he had been "brainwashed" by online propaganda posted by extremist groups not long after he converted to Islam with serving time for cocaine trafficking a decade ago.
Despite being a convicted felon, Leon Davis owned six rifles, four handguns, and two shotguns, AP reported.
Related topics ;
07/2015 – 5 MARINES KILLED IN TENNESSEE TERROR SHOOTING
06/2015 – AHEAD OF 4TH OF JULY U.S ARRESTED ALAA SAADEH
06/2015 – TERROR SUSPECT USAAMA RAHIM KILLED BY FBI IN BOSTON
05/2015 – ARIZONA – THE NEXT 'MUHAMMAD CARTOONS' ROW
04/2015 – 2 SHOT DEAD OUTSIDE TEXAS'S GARLAND 'FREEDOM' CONFERENCE
————————–
rRead more ;
JIHADWATCH
NBCNEWS
BREITART.COM