– ISIS IS THREATENING GERMANY & AUSTRIA OVER JIHAD
–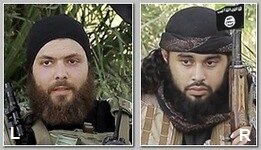 In its first German-language video, the "Islamic State", on Wednesday 08/05/2015,  has threatened Germany and Chancellor Angela Merkel. Earlier, a suspected ISIS  supporter, age 23 from Moroccan descent,  was detained in a home for asylum seekers near Stuttgart. The unidentified Moroccan already had a warrant out for his arrest issued by the Spanish authorities. Spanish police allege that the man had been a contact for potential jihadists en route to the Middle East.
Standing amidst the rubble of Syria's ancient city of Palmyra and before  apparently executing two men believed to be Syrian regime soldiers,  The execution is set to the a rap song by Abu Talha al-Almani, a German rapper, originally named Denis Cuspert, who has been featured in a number of other Islamic State propaganda videos.
Switching between German and Arabic they called on their coreligionists "to wage Jihad" in Germany and Austria, "Slaughter each infidel," in their homes (Lone-wolf attacks), "everywhere," the gunmen demand, before focusing personally on German Chancellor Angela Merkel and threatening to avenge "the blood of Muslims…spilled in Afghanistan," where Germany had deployed troops in support of the American led campaign against the Taliban and Al Qaeda and participated in counter-insurgency operations.
The two jihadists featured in the latest video were identified by German media as Abu Omar al-Almani (L), a German national, and Mohamed Mahmoud (R), also known as Abu Usamah al-Gharib, an Austrian national originally from Egypt, He was arrested in Austria in 2007 after authorities said they became alarmed when he started to buy components for a possible suicide belt and his organisation, The Media Front – GIMF published a video threatening to carry out attacks in Germany and Austria if they did not withdraw their troops from Afghanistan.
Mohamed Mahmoud caused a "chain reaction" by founding the first militant salafist movement in Central Europe (Millatu Ibrahim) and radicalising Austrians and Germans.
Mohamed Mahmoud was later arrested in Turkey,  in 2013, for his support to ISIS. He arrived to Syria in 08/2013   Mohamed Mahmoud is reported to have married Ahlam Al-Nasr, an Isis propaganda official known as the "poet of the Islamic State" in summer 2015,
According to Germany's Interior Minister, Thomas de Maizière, some 650 Germans have left the country to join the Islamic State (see – WESTERN JIHADISTS ).
* Related topics ; 
06/2015 – ISLAMIC STATE'S MAGAZINE 'DABIQ'
02/2015 – GERMAN TERROR ARRESTS
06/2013 – JIHADISTS THREATEN EUROPE WITH FLYING MODELS
09/2009 – AL QAEDA THREATENS GERMANY
PROFILE – BURAK HARAN
*********************
Read more ; 
JPOST-IL 
GERMAN DW.COM 
DER SPIEGEL
THELOCAL