– $33M' BOUNTY FOR 7 AL-SHABAB LEADERS
–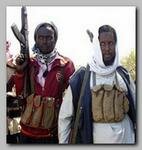 The US state department has placed, on Thursday 06/07/2012, seven top leaders of the Somalia-based al-Shabab armed group on its wanted list for the first time, offering up to $33m for tip-offs to aid the hunt for the men.
A $7m bounty was placed on al-Shabab founder
Ahmed Abdi aw-Mohamed
and a further $5m was offered for other members –
Ibrahim Haji Jam
a,
Fuad Mohamed Qalaf -'Shongole' (see – Obama Should)
,
Bashir Mohamed Mahamoud
and
Mukhtar Robow Adumansur
. Up to $3m was offered for two other leaders,
Zakariya Ismail Ahmed Hers
i and
Abdullahi Yare
.
"Since 2006, al-Shabab has claimed responsibility for several bombings-including suicide attacks in central and northern Somalia and in the capital of Mogadishu," the state department said in a statement on Thursday.
"The group is responsible for the killing of thousands of Somali civilians, Somali peace activists, international aid workers, journalists and African Union peacekeepers." It added the fighters had also attacked neighbouring Uganda and threatened attacks on US, Kenyan and Burundian interests.
Al-Shabab still controls large parts of southern Somalia, but AU troops, government forces and Ethiopian soldiers have clawed several key bases back from the group in recent months. Late last month, al-Shabab launched an ambush on Sheik Sharif Ahmed, the Somali president, but he escaped unhurt.
The US announcement comes as Somalia's disparate leaders struggle to form a government to replace the weak transitional body in Mogadishu, which is preparing to hand over power by an August 20 deadline.
* Pro al-Shabab website Amir Nur claimed in response that al-Shabab leader Fuad Mohamed Qalaf, also known as Sheikh Shongole, offered a bounty of 10 camels for any information of Barack Obama's whereabout.
Since the 1991 ousting of former president Mohamed Siad Barre, Somalia has been variously governed by ruthless warlords and armed groups, each controlling their own limited fiefdoms.
* Related topics ;  
–
********************************
Read more ;  
AL-JAZEERA
VOA-NEWS
SOMALIAREPORT