– 2 NOWEIGIAN SISTERS TRAVELED TO SYRIA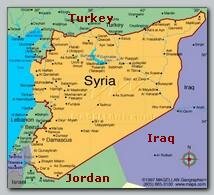 Norwegian police have issued, on Monday 10/21/2013, international alerts for two teen sisters believed to have traveled to Syria to join the civil war (see – SYRIAN DILEMA). 
Police in suburban Oslo on Monday said the sisters, aged 16 and 19, are Norwegian citizens of Somali origin and were last spotted on the Turkish-Syrian border. 
Police spokeswoman Nina Karstensen Bjoerlo said a wanted notice was issued through Interpol for the older sister and a missing notice for the younger teen because she's a minor. 
Norwegian newspaper VG said the sisters sent an email to their family Thursday 10/17/2013 saying they were traveling to Syria to help Muslims "in any way we can." 
Karstensen Bjoerlo declined to comment on their motive for going but said "we know that Syria is in a state of war so this is disconcerting." 
According to the Kenyan police, on 10/18/2013, another Norwegian citizen of Somali descent Hassan Abdi Dhuhulow, was implicated with the Westgate Siege in late 09/2013 (see – Westgate Investigation). 
* Related topics; 
****************************
Read more ;