– 2 ISRAELI ARABS FAILED TO JOIN ISIS
–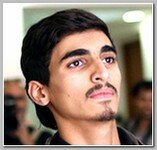 * Fares Sharitah, 19,  Jerusalem man was charged on Thursday 08/13/2015, with attempting to join Islamic State,  Prosecutors at Jerusalem District Court claimed that Fares Sharitah, a resident of Jerusalem, who has lived for the past few years in the USA, set his plan in motion to the join ISIS by first flying to Turkey, a common jumping off point for ISIS hopefuls to enter Syria. According to the prosecution, in 04/2015, he convinced two of his family members to join ISIS along with him.
But whenFares Sharitah landed in Istanbul, in 05/2015,  Turkish authorities would not allow him into the country because his passport was expired, so he decided to fly to Israel to renew his travel document with the aim of eventually traveling back to Turkey and onward to Syria to join ISIS, the prosecutor says.   When he was back at home in the Arab village of Akeb in Jerusalem, the prosecution claims that Fares Sharitah stayed in contact with his two family members who successfully made it to Syria.  
–
*Khamis Adnan Salameh, 20, a  resident of the central Israeli city of Ramle and an engineering student at the Kinneret College in northern Israel, was formally charged, on Thursday 08/13/2015,  with attempting to leave Israel illegally and join the ISIS terrorist group.
Khamis Salameh admitted under interrogation to having been decided to join the jihadist group after viewing dozens of ISIS propaganda videos online over the past several months. He then made contact with two ISIS members via Twitter, according to the Shin Bet, the Israel Security Agency,
Khamis Salameh followed his instructions and traveled to Turkey, flying to Istanbul and from there traveling to the southern city of Adana, where he booked into a local hotel to await further instructions. However, just hours before he was scheduled to make contact again and cross the border into Syria, Salameh was arrested by Turkish police.
Several Israeli Muslims have been arrested after returning from Syria, where they joined Islamic State or other rebel groups.
.
Related topics ;
06/2015 – ISRAELI ARAB FAMILY JOINED ISIS
03/2015 – ALLEGED ISRAELI ARAB SPY, SAID ISMAIL MUSSALAM, EXECUTED   
03/2015 – ISRAELI JIADISTS  
02/2015 – ISRAELI SPY MOHAMMAD SHAWRABA   
12/2014 – AN ISRAELI ISIS CELL OF 7 UNCOVERED  
———————
Read more ; 
J-POST.
TIMES OF ISRAEL
ISRAELNATIONALNEWS