– THE BATTLE OF LATAKIA – THE LATEST STAGE IN THE SYRIAN WAR
–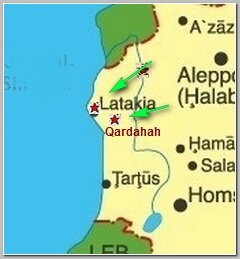 The port town of Latakia in North-Western Syria on the coast of the Mediterranean coast is the most symbolic center of Bashar Assad's Alawite regime in Syria, The home town of Assad's family Qardaha, where his father, Hafez al-Assad's mausoleum is located is just 25 k"m South East to Latakia. Its population is predominated by the Alawite Shia sect and many of its residents are serving in the most delicate and prestigious jobs in Assad's family regime.
Latakia was already shaken by the murder of an Syrian Air Force colonel Hassan al-Sheikh, who was shot dead in front of his children. by one of Bashar Assad's cousins Suleiman al-Assad . The murder had led to large protests in Latakia and Suleiman al-Assad was arrested, eventually, on 08/10/2015.
Some of the Alawite villages between Latakia and the Turkish border and Latakia came under attack for a short period of time in an earlier stage of the war but the Alawite provinces of Latakia and Tartus managed to carry on with their ordinary life and escape the horrors of the Syrian civil war.
Recently the rebels, a coalition of Islamic militias, calling themselves Ansar al Fatah (the victorious corp) made significant gains in Northern Syria, especially after the fall of Idlib, in 04/2015, and to disrupt the transportation and movements between Damascus and its region in the South to the Alawite Provinces in the North. It was a question of days that Latakia will fill the real hit of the war.
Indeed the rebel alliance, led by Jabhat al-Nusra and Ahrar al-Sham have pushed, amide heavy shelling in Damascus, on 08/12/2015, pro-government forces into positions in Latakia province as the town itself suffers from random explosions – the war reached Latakia and it is, probably, the beginning of the end for Assad's regime in Syria.
According to reports from the area pro-Assad forces have set up positions east of a coastal mountain village, Qardaha.
Last month Assad acknowledged his forces had to give up certain areas in order to hold onto others. One day prior, Assad reportedly announced amnesty for Syria's estimated 70,000 draft-dodgers and deserters.
Also on Thursday 08/13/2015 the Islamic State (ISIS) claimed responsibility for a truck bomb attack at a crowded marketplace in the Baghdad district of Sadr City, inhabited by Shiites exclusively. which killed at least 76 people and wounded more than 200 others.
Related topics ;
08/2015 – 48 HOURS PARTIAL CEASEFIRE AGREED IN SYRIA
08/2015 – THE CURRENT STAGE OF THE MIDDLE EAST
07/2015 – TURKEY ALLOWS U.S TO USE INCIRLIK AIR BASE AGAINST ISIS
07/2015 – THE THREAT FROM SYRIA'S AL-SAFIRA COMPOUND
06/2015 – U.S LACKS FULL STRATEGY !?
—————————
Read more ;
ALLMEDIANY
BBC NEWS
UPI.COM
ALBAWABA
ALBAWABA-B