– BIN LADEN'S SON CALLED FOR 'TARGETING JEWISH AMERICAN INTERESTS'
–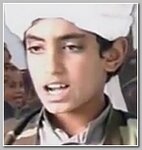 * Hamza bin Laden, Osama Bin Laden 's youngest son, who has ambitions to lead Al Qaeda, the terrorist organization founded by his father, posted, on Friday 08/14/2015, an audio message calling "for the targeting of Jewish American interests globally."
"Hamza also reportedly called for attacks on Washington, London, Paris and Tel Aviv," the alert said.
The alert by SCN, an arm of Jewish Federations of North America and the Conference of Presidents of Major American Jewish Organizations, said the audio message was confirmed by "reliable sources" in law enforcement and was recorded sometime before 06/15/2015.
Amide growing competition and rivalry between Al Qaeda and the Islamic State over the world wide leadership of the Global Jihad Jihadi leaders and organizations have stepped up their calls for "lone wolf" attacks across the globe .
Rita Katz, director of SITE Intelligence Group, tweeted 'Hamza Bin Laden lived the life of jihad with his father throughout AQ's (Al Qaeda) creation in Afghanistan. 'With Hamza, AQ hopes to renew the popularity of AQ by reviving the brand of "AQ = Bin Laden"
It is unclear what is the real position of Hamza bin Laden in Al Qaeda, now led by Ayman Al Zawahiri, or is his real influence .
.
Related topics ;
08/2015 – ANOTHER IRRELEVANT MESSAGE FROM AL QAEDA CHIEF
06/2015 – THE WANE OF AL QAEDA & THE RAISE OF THE ISLAMIC STATE
09/2014 – ISIS THRIVES – JUND AL-KHILAFA
09/2013 – ZAWAHIRI CALLS TO "BLEED AMERICA ECONOMICALLY"
————————
Read more ;