– HAMDI AL-QUDSI TO FACE TRIAL IN AUSTRALIA
–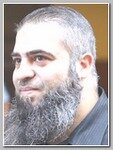 Australian Hamdi al-Qudsi, a Sidney man who was a disability pensioner with only $500 to his name., was arrested on Thursday 08/27/2015, over recruiting individuals in Australia to join Jabhat al-Nusra in Syria, after a court dismissal of his request for the case to be dropped.
Hamdi al-Qudsi has two wives. one of them is controversial Muslim Carnita Matthews – the woman who, in 2010, claimed police tried to rip off her burqa to see her face during a roadside breath test.
On Thursday 08/27/2015, the New South Wales' Supreme Court ruled that Hamdi Alqudsi should be put to trial for recruiting seven men to join the ranks of the al-Nusra Front and other terrorist groups in Syria.
Hamdi al-Qudsi had asked the court to drop the charges, saying the Crimes (Foreign Incursions and Recruitment) Act 1978 – the law according to which he has been charged – is unconstitutional.
Justice Christine Adamson, however, rejected his appeal.
The law stipulates that "a person shall not enter a foreign state with intent to engage in a hostile activity in that foreign state," adding that anyone who facilitates this process is also guilty and will be given a seven-year prison term.
The court accuses Hamdi al-Qudsi of arranging the travel of seven men to Syria between 06-10/2013, saying it has access to some telephone intercepts that prove that 41-year-old Hamdi al-Qudsiwas giving instructions to the Takfiri terrorists on how to go to the conflict-hit Arab state.
Hamdi al-Qudsi i made headlines in 07/2015, the holy Islamic month of Ramadan when his bail was varied to allow him to live at Minto mosque during the holy period of Ramadan.
.
Related topics ;
08/2015 – 7 YOUNG ISIS FOLLOWERS STOPPED AT SYDNEY AIRPORT
07/2015 – ISIS NURSE ADAM BROOKMAN RETURNS TO AUSTRALIA
05/2015 – MELBOURNE TEEN ARRESTED OVER BOMBS PLOT
04/2015 – AUSTRALIAN CITIZEN SHARKY JAMA KILLED IN IRAQ
03/2015 – JAKE BILARDI BLEW HIMSELF IN RAMADI. IRAQ
———————————–
.
Read more ;
–
SMH.COM
ABC.NET.AUSTRALIA
DAILYTELEGRAPH