– 2 IRAQI GENERALS KILLED AS ISIS ADVANCES TOWARD TURKEY
–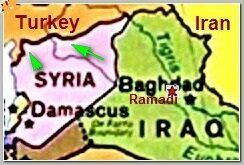 * I.S.I.S suicide bomber, on Thursday 08/27/2015, killed two Iraqi army generals in an attack targeting troops west of Baghdad, the Associated Press reported.
Iraqi officials told the AP the militant drove his vehicle into advancing troops north of Ramadi on Thursday and detonated the explosives. There were other casualties but the Iraqi military didn't specify the number.
A military statement named the two generals as Maj. Gen. Abdul-Rahman Abu-Regheef, deputy chief of operations in Anbar, and Brig. Gen. Sefeen Abdul-Maguid, commander of the 10th Army Division.
The Iraqi government has continued an offensive against the Islamic State but has suffered significant casualties this month and the offensive stucked in.
Also on Thursday 08/27/2015, The Islamic State has seized five villages from Syrian rebels in northern Syria, the Syrian Observatory for Human Rights said on Thursday, advancing in an area where Turkey and the United States are planning to open a new front against the group .
—
* Turkish Foreign Minister Mevlut Cavusoglu told Reuters, on Monday 08/24/2015, that the two NATO allies ( Turkey & USA ) would soon launch "comprehensive" air operations to flush ISIS fighters from the border region. Actually Turkey is pushing toward establishing a security zone inside Syria along their common x-border, most likely no because of I.S.I.S but because of the Kurdish populationliving in the area and the growing conflict between Turkey and the Kurds.
.
Related topics ;
–
08/2015 – AYATOLLAH SISTANI : IRAQ FACES POSSIBLE PARTITION
08/2015 – ISIS NO. 2. FADEL AL-HAYALI, KILLED BY U.S DRONE
07/2015 – TURKISH DOUBLE PLAY
07/2015 – 32 KILLED IN THE TURKISH BORDER TOWN SURUC
06/2015 – U.S LACKS FULL STRATEGY !?
.
—————————-
Read more :
–