– ISRAELI WOMAN ATTEMPTED TO JOIN ISIS
–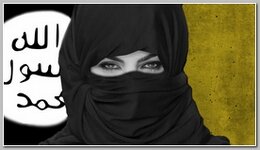 An Israeli Arab woman was arrested, on Friday 08/28/2015 night for attempting to enter Syria and join the ranks of the Islamic State (ISIS). The Galilee resident, a mother in her 40s, was arrested in Turkey by local police before attempting to cross the border to Syria, she was then deported back to Israel where she was arrested and taken in for questioning by the Shin Bet security service. She was first reported missing by her children and husband, and faces a remand hearing in Nazareth Saturday 08/29/2015.
The female suspect is not the first Israeli Arab to attempt to join the organization, though she is most likely the first woman to try to do so.
In August, an Israeli Arab and a Palestinian from East Jerusalem were indicted after allegedly trying to join the Islamic State group in Syria in two .
In early July, a 23-year-old Israeli Arab was sentenced to three years in prison and fined 10,000 shekels (about $2,700) after being convicted of entering Syria and joining ISIS.
Also in July the Shin Bet and Israel Police arrested six residents of the Negev Bedouin village Hura, including four teachers at state schools, for allegedly setting up a local cell that supported ISIS and preaching Islamist doctrine to their pupils and others. They also allegedly planned to travel to Syria to fight with ISIS forces.
In late 2014 seven Israeli Arabs from the Galilee were arrested on suspicion of attempting to establish cells for the ISIS in Israel.
—
* Note – All together the number of Israeli Arabs who attempted to join ISIS does not reach 100 people, relative to the 1.6 million Israeli Muslims it is less than a half of the numbers of European Muslims joining ISIS. About 60 Israeli Arabs to a million and in Europe with over 140 to a Million local Muslims.
.
Related topics :
06/2015 – ISRAELI ARAB FAMILY JOINED ISIS
03/2015 – ALLEGED ISRAELI ARAB SPY, SAID ISMAIL MUSSALAM, EXECUTED
03/2015 – ISRAELI JIADISTS
09/2014 – WESTERN JIHADISTS
————————————-
read more:;