– ATTACKS ON ISRAELI DIPLOMATS IN DELHI & TBILISI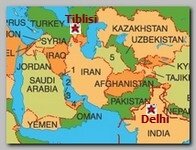 A day after the fourth anniversary of the killing of Hizbullah's military commander Imad Mughniyah, two seemingly coordinated attacks were launched, on Monday 02/13/2012, against Israeli embassies overseas.
In the first attack, the wife of he Defense Ministry representative to India,Tali Yoshua Koren, was injured when a bomb exploded in her car in New Delhi, India. The woman succeeded in driving to the Israeli embassy where she was evacuated to a nearby hospital. She was reported to be in moderate condition. Three others were also injured in the attack, according to Reuters.
Tali Yoshua Koren also works at the embassy, left Monday afternoon with a driver to pick up her children from school. On her way to the school, the blast occurred. She sustained moderate injuries, mostly to her legs, was evacuated to a nearby hospital and is currently in surgery, suffering mostly from shrapnel injuries.
The current assessment within the Israeli defense establishment was that the bomb was attached to the car by an assassin on a motorbike. It was unclear if the assassin knew that Koren was in the car or thought that her husband, the Defense Ministry representative, was in the car instead.
In the second attack, an embassy staffer in Tbilisi, Georgia discovered a bomb underneath his car as he was driving to the embassy Monday morning (see – Threat 02.15.11). The staffer – a local Georgian national – heard something during the drive, pulled over to the side of the road, noticed the bomb and called local authorities. The bomb was dismantled before exploding.
Israeli security authorities raised the level of alert worldwide following the attacks. Security officials said that it was possible that the attacks were connected to the fourth anniversary of the killing of Hizbullah military chief Imad Mughniyah who was killed in Damascus on 02/12/2008 (see – Mughniyah's Death).
Diplomats worldwide have been ordered to check in and citizens currently overseas have been asked to do the same, reporting where they are and what their status is.
Security at embassies is being boosted by local police and military forces and Israel was considering the possibility of sending reinforcements from Israel. The Shin.Bet (Israel Security Agency) was holding security assessments at its headquarters in Israel.
The attacks were believed to be coordinated. Iran and Hizbullah have tried a number of times in recent years to avenge Mughniyeh's assassination and the mysterious assassinations of Iranian nuclear scientists in Iran in the past two years, attributed by Iran to Israel (see – Mostafa Ahmadi-Roshan).
Israel raised its level of alert in early January surrounding delegations overseas out of concern that Iran and Hizbullah are trying to launch an attack ahead of the fourth anniversary of the assassination Mughniyeh. Attacks were recently thwarted in Azerbaijan and in Thailand.
Other attempts have included a plan to shoot down an Israeli airliner over Turkey with shoulder-to-air missiles and a plan to attack Israeli tourists in the Sinai.
* Indian Home Minister
Palaniappan Chidambaram
said, on Tuesday 02/14/2012, that the attack against an Israeli diplomatic car in New Delhi was carried out by a "very well-trained person."
* Officials investigating the bomb car in India on Monday have found that the explosive was the first of its kind in the country and could have been made by "foreign experts", a senior Indian police official said ."A sophisticated incendiary device was used in the blast, a first in its kind for a terror attack in India. This has been giving officials cause for concern", the local Indian news channel reported (see also – Bangkok Incident a day later, on 02/14/2012).
.
* Times of India claimed, on Thursday 02/16/2012,
Tamir Pardo,
head of Israeli Mossad, led a high-ranking intelligence delegation to India, where he discussed the possibility of a attack against Israelis, without indicating a specific New Delhi warning.
.
* In all three cases in Delhi, Tiblisi and Bangkok, the same type of magnetic device was used to stick the bombs to the target cars. It was a component of a magnetic sea mine also used by Iranian navy (see – Bangkok 2012 Investigation).
.
* Delhi police said, on Wednesday 03/07/2012, they have arrested a Delhi-based freelance journalist, identified as Syed Mohammed Kazmi, 50, in connection with the attack. Syed Mohammed Kazmi has been arrested for allegedly being part of the conspiracy to plant the bomb on the car. He claims to have been writing for an Iranian publication and was arrested up after a probe showed that he had been in touch with the suspect who is believed to have stuck the magnetic bomb on Israeli embassy car.
Sources say police are close to a breakthrough in the blast case, which Israel has blamed on Iran. According to the police a stick-on bomb was planted on the car by two men on motorcycle.
** An Indian court, on Wednesday 03/14/2012, has issued arrest warrants for three Iranians, Housan Afshar Irani, Syed Ali Mehdi Sadr and Mohammed Reza Abolghasemi, in connection with a bombing attack.
According to Indian Police Commissioner B K Gupta, on Friday 03/16/2012, Iranian national Housan Afshari Irani, who had visited Delhi twice, was in touch with Masoud Sedaghatzadeh, another Iranian national accused of being one of the bombers in the triple explosions in Bangkok.  His name and the names of his associates in Delhi were uncovered from Masoud Sedaghatzadeh's cell phone. Housan Afshar also fled India to Malaysia shortly after the Delhi attack occurred, probably in order to meet Sedaghatzade there.
"It thus establishes Housan Afshar Irani's links with the module that executed the terror acts in Bangkok," Gupta said. Gupta said Syed Mohammed Kazmi was held after Masoud's arrest. "Masoud's link with Afshar Irani, and further technical surveillance of Irani, had led to Kazmi's arrest," he added.
B K Gupta also said the moped used in surveying the Israeli embassy and surrounding areas was bought by Afshar Irani from a dealer in Karol Bagh.
"We have recovered documents related to the moped and technical investigation clearly established that Kazmi and Afshar Irani were in touch on phone," Gupta said.
Later, on Saturday 03/17/2012, India issued a fourth arrest warrant for Masoud Sedaghatzadeh himself. He is detained in Kuala Lumpur, Malaysia awaiting to be extradited to Bangkok for his role in the Bangkok Plot of 02/14/2012.
* Syed Mohammed Kazmi told police he went to Iran twice in 2011, promised to provide assistance to the attackers in India and was paid $5,500. In addition to helping with surveillance of the Israeli embassy, Kazmi booked a plane ticket for one of the Iranian suspects to leave the country, Gupta said.
A scooter used by Kazmi and Afshar for reconnaissance near the Israeli Embassy was found parked at Kazmi's home. Police were also investigating the source of nearly $45,600 in remittances from abroad in Kazmi's and his wife's bank accounts, a Delhi police statement said on Sunday 03/18/2012.
.
**SEE – DELHI'S ISRAELI EMBASSY ATTACK INVESTIGATION – CONCLUSIONS   
.
.
* Related topics ;  
–
02/2012 -ANOTHER IRANIAN LINKED PLOT FOILED IN SINGAPORE 
07/2011 -
FAOUZI AYOUB ACCUSED OF BOMB MISSION IN ISRAEL
2011 -HIZBULLAH'S "OPERATIONS ABROAD" APPARATUS
.
****************************
 Read more ;
IBNLIVE-INDIA