– IRANIAN CELL ARRESTED IN AZERBAIJAN
–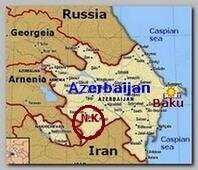 Police in Azerbaijan have arrested an unspecified number of people linked to Iran and Hizbullah, suspected of planning attacks in the country, state television said on Tuesday 02/21/2012.
.
State broadcaster AZ.TV, quoting the National Security Ministry, said police had detained people linked to Iranian intelligence services, named Hamid, and Hizbullah operative Haji Abbas, who intended to stage attacks on foreign citizens in the country.
The report said the suspects had gathered intelligence on targets and bought explosives, guns and ammunition, but gave no further details. According to reports, the suspects took orders from Iran's Revolutionary Guards.
Azerbaijan has been recently raised as a possible location for an attack on Israeli and Jewish targets by Iran or Hezbollah. Last month, a plot to assassinate the Israeli ambassador and hit Jewish targets was thwarted (see – Baku 01.24.12).
* Related topics ; 
–
02/2012 -ANOTHER IRANIAN LINKED PLOT FOILED IN SINGAPORE 
************************
Read more ; 
BOSTON ARTICLES