– KARNATAKA TERROR MODULE NABBED IN INDIA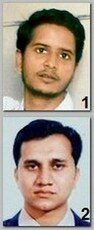 Bangalore City police, on 08/29/2012, arrested 11 suspects, 6 from Bangalore and 5 from Hubli, with alleged links to Lashkar-e-Toiba and HuJI (Harakat-ul-Jihad Islami) and claimed to have foiled their plan to target MPs, legislators and mediapersons besides leader of a Hindu outfit. Those arrested, including Muti Ur-Reheman Siddique (1), 26, a journalist crime reporter with an English daily, a doctor, Jaffar Iqbal Sholapur (2), 27, and a fellow "trainer" Ejaz Ahmed Mirza, a Junior Research Fellow with Defence Research and Development Organisation. Muti Ur-Reheman Siddique is considered by Indian authorities as the ringleader of the Bangalore module. Dr. Jaffar Iqbal and the fellow "trainer" Ejaz Mirza, according to the police, went through training in Saudi Arabia and intended to train more recruits in India.
Other Bangalore suspects were identified as Shoaib Ahmed Mirza, alias Akram, alias Chotu, a chartered accountant, 25, and the brother of Ejaz Mirza. According to Indian sources Shoaib Ahmed Mirza – Akram was trained in the past by the Pakistani intelligence ISI and was in contact with Riyaz Bhatkal. He planned with Muti Ur-Reheman Siddique, to kill a pro Hindu columnist in the popular daily Kannada Magazine.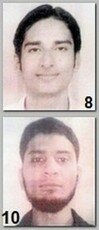 The other Bangalore suspects were named as Abdul Hakim Jamadaar, 25; ohammed Yusuf Nalband, 28, and Riyaz Ahmed Byahatti. All were residing in a rented house in Munireddypalya in the RT Nagar area of Bangalore.
–*********D.0
The five arrested in Hubli have been identified as Obedulla Imran Bahadur (8) alias Sameer alias Imran; Mohammed Sadiq Lakshkar alias Raju, 28; Wahid Hussain (10) alias Sahil;  26, Baba alias Mehaboob, 26, and Dr Jaffar Iqbal Sholapur.
*
Obedulla-Ur-Rehman, 21, was arrested in Hyderabad, on Friday 08/30/2012, on the basis of information given by the 11 terror suspects taken into custody in Hubli and Bangalore earlier. Meanwhile, the Bangalore Police also arrested a student from Hyderabad, on Friday evening, in connection with the 11 arrests.
–
the 26-year old
Obaid Rehman (13).
He
has been taken to Bangalore for further investigation. Security sources said that Obaid Rehman had come in
contact with the handler, said to be a Lashkar-e-Toiba (LeT) cadre, through
Mohammed Akram
from Nanded arrested in Bangalore, the next day.
On Saturday 09/01/2012 night Bangalore Police arrested 22-year-old Mohammed Akram near Majestic area of the city while he was trying to flee the region. "One foreign-made 7.65 mm pistol along with 16 cartridges and other incriminating articles have been recovered from his possession," City Police Commissioner B G Jyothiprakash Mirji told reporters on Sunday 09.02/2012.. Mohammed Akram allegedly had links with Lashkar-e-Toiba and HuJI. ccording to police, Mohammed Akram received training in Saudi Arabia for a year, and was taking shelter in the city for a while.
The Karnataka Police arrested another 'terror suspect' in Bangalore late on Sunday 09/02/2012, taking the total number of such arrests in the past five days to 14. Nayeem Siddique, an MBBS doctor, was arrested from a rented house in Basaveshwarangar, Bangalore. With the arrests the police claim to have unearthed one of the largest terror networks in India, particularly Karnataka.
Police said Nayeem Siddique,came in contact with the other suspects two years ago. 'All the suspects met at a students' conclave. Since then, they have been in touch with each other. "We believe that Siddique was recruiting educated persons for his local network," the Police officer said.
On Wednesday 09/05/2012 Indian police arrested 4 more suspect in the network .The four arrested from Nanded have been identified as Mohammed Muzammil, 29; Irfan Shaikh, 25; Mohammed Iliyas, 27 and Mohammed Sadique, 27, an ATS official said, adding that two revolvers with 14 rounds were recovered from them.
The self-motivated "terror network" became active after the Idgah Maidan (Square or Garden) issue in Hubli that led to communal clashes and violence. Idgah Maidan conflict and legal battle about the ownership of the Idgah Maidan lasted for over than 40 years. Though the government and the courts have settled the ownership and the usage of the Maidan, and ruled , in 01/2010, it was not a Muslim property, it has become the trigger to mobilise support for "terrorism-related activities". Sources say that the questioning suggested that the group was self-radicalised and is deeply influenced by USA-born Al Qaeda terrorist Anwar al-Awlaki and the Al Qaeda's mouthpiece "INSPIRE MAGAZINE". The arrested group is believed to have been galvanized together by the brother of Shahid Bilal, the HuJI operative who was suspected to be responsible for a series of strikes in India between 2006 and 2007. He was killed in Pakistan in August 2008.
Investigators probing the activities of busted terror module in Karnataka have found that the handlers of the arrested 'terrorists' were based in Saudi Arabia and most of them were Indians. Deported LeT terrorist Zabiuddin Ansari, known also as Abu Jindal, and INDIAN Mujahideen activist Fasih Mehmood, who is still in the custody of Saudi authorities, were running their terror modules from there.
It is therefore most likely that Indian and Saudi Intelligence agencies worked in full cooperation to foil the plot. It is not conclusive that the ISI was behind the plot.
* National Investigating Agency (NIA) has filed a chargesheet against 12 of 15 arrested Lashkar-e-Toiba (LeT) terror suspects in a special court in Bangalore, on 02/21/2013, for alleged conspiracy to kill prominent politicians and journalists in Karnataka, Andhra Pradesh and Maharashtra.
Three others – Ejaz Mohammed Mirza, Mohammed Yusuf Nalband, Muti Ur-Reheman Siddique
and a fourth suspect,
Syed Tanzeem
– have not been included in the chargesheet, police said.
* Related topics ;  
–
08/2012 -INDIAN MUJAHIDEEN SUSPECTED OF PUNE BLASTS  
07/2012 -DELHI ISRAELI EMBASSY ATTACK 
04/2012 -FALSE TERROR ALERT IN MUMBAI PROBABLY A PAKISTANI HOAX 
*********************************************
–
TIMESOFINDIA-ARTICLE  
OUTLOOKUNDIA
IBNLIVE-NEWS