– FULL SUTTON JAIL INCIDENT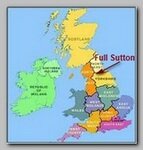 Four days after the Woolwich Beheading three Muslim inmates. on Sunday 05/26/2013, assaulted two prison officers and held one of them hostage at an east Yorkshire Full Sutton prison.
The attack took place amid heightened tensions following the murder of the British soldier Lee Rigby. Neither the police nor the Ministry of Justice would comment on the motive for the attack. None of the inmates involved were serving time for terrorism-related offences. Two of them are aged 25 and the other is 26. Neither of the staff who suffered injuries were ex-military.
The incident began at 4.25pm when a male prison officer was forcibly taken hostage. Another officer, a woman, attempted to help him and received cuts to her arm in the process.
Michael Spurr, chief executive of the National Offender Management Service, said: "The incident concluded at 8.40pm after specially trained prison staff intervened to release the officer.
"The officer taken hostage suffered a broken cheekbone and a number of wounds to his face and neck at the beginning of the incident. Both members were treated in hospital for their injuries.
Both of the prison officers have been discharged from hospital. A spokeswoman for the north-east counter-terrorism unit said it was leading the investigation "given the potential nature of incident".
* Related topics ;
–
05/2013 -FRENCH SOLDIER STABBED IN PARIS METRO
04/2013 -THREAT TO THE WEST
10/2012 -SHAJUL ISLAM ARRESTED IN U.K OVER KIDNAPPING IN SYRIA
07/2012 -OLDHAM COUPLE GUILTY OF PLOTTING ATTACKS AGAINST JEWS  
****************************
Read more ;