– ABU HAMZA AL-MASRI (MUSTAFA KAMEL MUSTAFA )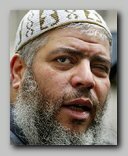 Abu Hamza al Masri, his real name is Mustafa Kamel Mustafa, was born in Alexandria, Egypt, on 04/15/1958 as a son of a Naval officer and a teacher in primary school. In 1979 Abu Hamza al Masri traveled to UK to study civil engineering and his first job was as a night club bouncer.
In London on 05/16/1980, Abu Hamza al Masri married a local woman. Although he divorced her in 1984 he was granted UK citizenship. He had a son from his first wife, Mohamed Kamel Mustafa.  Abu Hamza al Masri smuggled his son to Yemen and his Mother never saw him again. He remarried shortly afterwards and had 7 more children.
At the early 80's, the first years of the Islamic revolution in Iran and the war against the Soviets in Afghanistan, Abu Hamza al Masri began to show interest in the Jihad. He went to visit wounded Mujahidin treated in London hospitals to hear their stories.
 In his pilgrimage to Mecca in 1987 Abu Hamza al Masri met Dr' Abdullah Azzam , one of the founders of Al Qaeda. Shortly after the meeting with Dr' Abdullah Azzam, Abu Hamza al Masri moved to Afghanistan to Jalalabad to help rebuild the country as an engineer. In a dynamite accident in 1993 he lost both hands and an eye and came back for treatment to UK. Abu Hamza al Masri always tried to leave the impression that he was wounded in combat operation.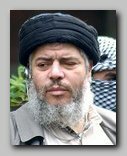 In 1995 Abu Hamza al Masri left UK once again to help in Bosnia. He came back in 1996 and in 1997, already a known figure in the Muslim community of London, he was asked to mediate between North African and South Asian groups in Finsbury Park Mosque and began to be a regular member of the Mosque. After the Luxor Massacre in Egypt on 11/17/1997 Abu Hamza al Masri was approached the first time by the MI5, the British security services, to check whether he had any knowledge about this dreadful event.
In 1998 his son, Mohamed Kamel Mustafa, was arrested in Yemen for a bomb plot and sentenced to three years in prison. USA authority believed that Abu Hamza al Masri was involved that year, along with Khaled Abdul-Nabi, in the hostage taking, kidnapping and assassination of 4 Westerners: 3 from Britain and one from Australia, in North Yemen, through his son, and since than he is wanted in Yemen.
Still in 1998  Abu Hamza al Masri arranged in Mid Wales Brecon Beacons national park a camp for three weeks for Muslims youngsters where they learned surveillance techniques as well as how to strip and clean weapons. He even managed to recruit some of them to Al Qaeda and terror cells. ( Feroz Abbasi was probably one of them).
In 1999 Abu Hamza al Masri with Haroon Rashid Aswat was involved in an attempt to buy land in Oregon, USA in order to build there a training camp for young Muslims. (see Oregon camp) In the early 2000   Abu Hamza al Masri was nominated as chairman of the Finsbury Park Mosque Commission and, although he had no religious education, the actual Imam of the Mosque.
Accordingly more and more followers of the Imam where involved in Jihad and terror. After the arrest of Kamel Bourgass, a mosque member, on 01/13/2003 the police and MI5, the internal British Security service, obtained enough evidence to connect directly Finsbury Park Mosque and Abu Hamza al Masri to Islamic terror activity.
On 01/20/2003 The British police raided the Mosque and found hundreds of passports, credit cards and identity cards stolen or forged that, as the police believed, were used for terror activity. The police also arrested 6 men from Algeria and a Somali that stayed in UK illegally and lived inside the Mosque. Abu Hamza al Masri himself was removed from his office as the Imam of the Mosque on 02/04/2003 and replaced by a moderate mainstream Imam.
Abu Hamza al Masri UK citizenship was denied on 04/25/2004 under the allegation that he deceived the authority. He was arrested on 05/27/2004 after USA asked for his extradition to USA under the charges of being a member of Al Qaeda, an attempt to establish a training camp in Oregon in 1999 and his involvement in a hostage taking that led to the murder of Western tourists in Yemen in 1998. Abu Hamza al Masri was also charged in UK for inciting to violence and the killings of Jews and other infidels. He was convicted on 02/07/2006 and sentenced to 7 years in jail.
Abu Hamza al Masri won, on Friday 11/05/2010,  his appeal against government attempts to strip him of his British passport.
* Britain can extradite Abu Hamza Al-Masri and four other suspects to the USA to face terrorism charges, Europe's Human Rights Court in Strasbourg ruled, on Tuesday 04/10/2012 .
**Abu Hamza Al-Masri was, eventually, handed over to USA authorities. on Friday 10/05/2012.  He was convicted, on 05/19/2014, by a New York jury with all 11 terror charges, including allegations that in 1998 he arranged satellite communications for a group of kidnappers in Yemen who carried out a deadly attack in which four hostages were killed and conspiring in 1999-2000 to establish an al-Qaeda training camp in Bly, Oregon, among other acts (See – Oregon camp). 
* Relaed topics –
PROFILE – KHALED AL-FAWAZ 

PROFILE – OSSAMA ABDULLAH KASSIR

  
*************************
 Read more ;