– 14 TERROR SUSPECTS ARRESTED IN BARCELONA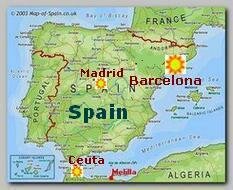 On 01/18/2008 night the Spanish police raided deferent locations in Barcelona, including the Torek Ben Ziad Mosque and a small prayer hall, and arrested 14 suspects, 12 Pakistanis and two Muslims from Indian origin, in plotting a terror attack. The police acted with the help of information from foreign intelligence agencies.
The police also ceased timers and other potential bomb making material. Since the arrests are coincided with the schedule tour of Pakistan's President Pervez Musharraf to European countries it can be assumed that the target of the group was the Pakistani President. 
The attacks would be claimed in the name of Al Qaeda by Islamist warlord Baitullah Mehsud from Pakistan's tribal region of South Waziristan. Baitullah Mehsud is the prime suspect in Benazir Bhutto assassination.
According to the Spanish Interior Ministerthe evidence suggested that they were faced with "a radical Islamist group with a significant level of organization which seems to have taken a step beyond ideological radicalization".
Two Pakistani men suspected of transferring large amounts of money on the behalf of extremists based in Pakistan were arrested in Catalonia in 09/2007 in a joint operation between Spanish police and the American FBI.
On 23/01/2008, in the preliminary hearing in court of 12 suspects, the Spanish judge Ismael Moreno overseeing the arraignment of 10 terrorism suspects said that they had "planned to carry out a series of suicide attacks" last weekend on public transportation in Barcelona.
The ruling said three suspected would be suicide bombers had traveled from Pakistan to Barcelona since October, with the most recent one arriving as late as mid-January.
The three had followed another PAKISTANI man — the alleged explosives expert — who had just arrived after a five-month stay in Pakistan. The judge ordered the release of two suspects for lack of evidence.
One of the detainees, Roshan Jamal Khan, originally from Mumbai, India, is wanted by Indian authority for alleged links to Mumbai terror plots. He was denied bail and on 05/08/2008 was visited by Indian representatives from India's embassy in Spain .
* The trial of 11 suspects began in Barcelona, on Thursday 11/12/2009. 9 Pakistanis and 2 Indians were charged with belonging to a terrorist organization, possessing explosive substances and falsifying official documents.
* Related topics – 
–
09/2004 -BARCELONA ARRESTS 
12/2007 -14 ISLAMIC MILITANTS ARRESTED IN BELGIUM  
*******N********
Read more ;