– 14 ARRESTED IN SPAIN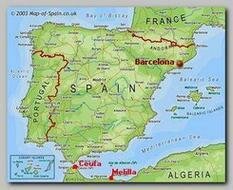 Police in Spain arrested 14 people Monday 05/28/2007 on charges of recruiting volunteers for terror training in Afghanistan and Iraq.
A National Police spokesman said that eleven suspects were arrested in Barcelona and in two other northeastern towns. Two others were arrested in the central town of Aranjuez, and one in the southern city of Malaga. A substantial amount of computer material was seized during the pre-dawn raids.
Ever since the beginning of the war in Iraq in 03/2003 Barcelona became a center of recruiting young Muslims from Spain and South France to Global Jihad. In most of the cases they were scheduled to fight abroad in Iraq and Afghanistan the NATO and USA forces.
On Friday 06/01/2007 judge in Spain ordered six people held in jail on provisional charges of belonging to a terrorist group, while freeing six others.
Abdelaziz Houari Mellas and Mostafa Aztout, two of the six jailed, were alleged to be the leaders of the recruiting cell.
***********************