– S.I.M.I – STUDENT ISLAMIC MOVEMENT. INDIA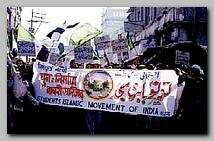 S.I.M.I – Students Islamic Movement of India was formed in 04/1977 in the Northern State of Uttar Pradesh, on the border with Nepal, as the student wing of the Jamaat-e-Islami Hind – the INDIAN Islamic Society.
Many of S.I.M.I followers were believers of the 'Deobandi sect', a Sufi Islamic sect originated in India in Uttar Pradesh in 1857, and is known by a strict adherence to the Sunna and an emphasis on Sharia – Islamic law, with a similar ideology as later the Taliban in Afghanistan had and with the same slogan – "Allah is our Lord, Quraan is our constitution, Muhammad is our leader, Jihad is our way and Shahada (sacrifice of life in the service of Islam)is our desire".
The declared goal was to convert the INDIAN society to Islam and liberate India from the bad influence of the Western Culture. S.I.M.I was founded by Prof' Mohammad Ahmadullah Siddiqi who, himself, eventually. adopted Western way of life and is today (01/2008) a journalist and a professor in Western Illinois University in USA. 
Inspired by the Iranian Islamic revolution of 1979 and the war in Afghanistan, which also began in 1979 and lasted a decade, many S.I.M.I activists turned to terror. The growing radicalization of S.I.M.I and the controversy about the approach toward international issues brought S.I.M.I to break off, in 1981, from the Jamaat-e-Islami Hind.
The number of military activists was small in INDIAN notion – about 400 with a second ring of about 20,000 sympathizers.
The demolition of the Babri Mosque in Ayodhya in 1992 by Hindus provoked violent clashes between Muslims and Hindus all over India in which S.I.M.I took, often, the lead. The support for S.I.M.I was boosted as an organization which protects Muslims in India from Hindu persecutions.
Members of S.I.M.I were involved in terror attacks in India in the 90s' and naturally cooperated with other Islamic organizations based in Pakistan such as Lashkar-e-Toiba, Jaish-e-Mohammed or the Bangladeshi Islami Chhatra Shibir (BICS) .
India seized the opportunity of The 9/11 aftermath and banned S.I.M.I – Students Islamic Movement of India on 09/28/2001. Some former S.I.M.I members continued to operate, generally within other radical Islamic organizations.
On 07/11/2006 members of S.I.M.I, in full cooperation with Lashkar-e-Toiba, committed the Mumbai Trains Bombing – the most heinous terror attack carried out by S.I.M.I activists.
S.I.M.I general secretary Safdar Nagori was arrested, eventually, on Wednesday 03/26/2008
As from early 2007 S.I.M.I operatives carried out a series of bomb attacks in main Indian towns and claimed responsibility on those attacks under a new name – INDIAN Mujahideen ( IM ).
* Related  attacks in India in summer 2008 –
–
09/2008 -20 KILLED IN DELHI MARKETS BLASTS
07/2008 -AHMEDABAD BOMBINGS
05/2008 -JAIPUR BOMBINGS
**************************
Read more ;