– JAIPUR BOMBINGS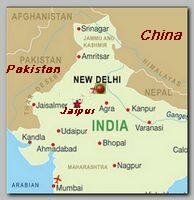 Jaipur, about 260 km South-West of India's capital New Dlehi, the capital of the Indian state of Rajasthan and a tourist attraction, was the scene of a series of bomb explosions on Saturday 05/13/2008 evening at about 19:15, the peak of business time and an hour favored by locals to do their shopping and hang around. The bombs intended to cause the maximum possible number of casulties and exploded in the most crowded areas of the town.  
Up to seven blasts were heard in the heart of Jaipur and in the crowded old town markets, detonated within 12 minutes of each other. One bomb went off outside a local Hindu temple. According to initial reports over 60 people were killed and many more wounded in the blats.
It is not yet clear who is behind the multiple bomb attack. Later in the evening Pakistan, with a rich history of supporting terror in disputed Kashmir and in India as a hall, strongly condemned the terror attack. 
On Wednesday 05/14/2008 evening, police released a sketch of a man in his mid-20s suspected of being involved in the bombings. Witnesses who helped prepare the sketch told police that the man was seen near the scene of one the bombings, parking a bicycle, and spoke Bengali.
On Thursday 05/15/2008 an ephemeral group the 'INDIAN Mujahideen', led by Riyaz Bhatkal, claimed responsibility on the attack through a video clip sent by email to national media showed one packet strapped on the back of a bicycle. The email said that the packet contained a bomb.
An Indian police source said that the explosive materials, the detonators and the method of committing the attack were almost identical to the Hyderabad Attack from 08/25/2007. The technology was suspected to be developed by an expert team working with the Harkat-ul-Jihad-e-Islami – HUJI-B, in Bangladesh.
* The investigation ; 
* Police believes that Sajid Mansuri, Mufti Abdul Bashar Kasmi and a third suspect arrested too – Shahbaz Hussain, who were arrested as prime suspects in the Ahmedabad Bombings, are linked to the Jaipur bombings too.
* On Monday 09/01/2008 the special investigation team (SIT) probing the Jaipur bombings has detained five persons from Railmagra village in Rajsamand district, which is around 352 km from Jaipur, for questioning. The detained persons include mobile shop owners and two others. Investigations revealed that Jaipur blasts main accused – Sajid Mansuri, Mufti Abdul Bashar Kasmi and Shahbaz Hussain  had talked to some persons in Railmagra on their mobile phones before the May 13 blasts.
* Eventually, the case was fully solved only after the Mumbai-Arrests, on 09/24/2008.
* Related topics –  
–
05/2008 -INDIAN ISLAMIC CLERICS DENOUNCED TERROR  
**************************
Read more  ;