– AHMEDABAD BOMBINGS
–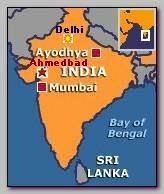 On Saturday 07/26/2008 evening, just a day after a series of 7 explosions killed two in Bangalore, in South East India, a second series of bombs went off in Ahmedabad, in North West India, killing 49 people and wounding about other hundred. Ahmedabad is an ethnically diverse city, which has witnessed bloody clashes between Hindus and Muslims in 2002 in which more than 1,000 died.
Seventeen blasts within an hour hit residential areas, crowded markets, a train station and a bus in Gujarat state's commercial capital Ahmedabad. The Ahmedabad explosions came in two waves – the first occurred over a 20-minute period from about 18:30, a second series of blasts went off an hour later and some of the bombs targeted the hospitals into which the injured from the first blasts were being taken.
Analysts believe the attack may be linked to the Bangalore Bombs and could be designed to whip up trouble between religious communities.
Indian television channels reported that they had received a claim of responsibility from a little-known group calling itself the "INDIAN Mujahideen" led by Riyaz Bhatkal.
* The Investigation ; 
* On 07/31/2008 the Indian police said that there is evidence that the bombs used in Ahmedabad and three days later in Surat (see – Surat failure), were scattered in the two towns by a team of four, who used four stolen cars, which were stolen from Mumbai in the second week of July. The police obtained the photo of a man who drove one of the four stolen cars caught on a security camera (see – Mankhrud Arrests ).
* The terror cell hacked a computer of an USA citizen, visiting in India with his family, Kenneth Haywood in order to send to each other e mails, including few minutes before the attack was carried out. Kenneth Haywood was briefly arrested and interrogated in that mater but was released without any charges. He left India on 08/17/2008 back to USA.
* On Saturday 08/16/2008 the Indian police announced the arrest of Mufti Abdul Bashar Kasmi, along other 10 suspects, in Lucknow, Uttar-Pradesh's capital as a prime suspect of masterminding and financing the Ahmedabad bombings. According to the Indian police Mufti Abdul Bashar Kasmi planned the attacks in the house of Yunus Mansuri in Bapunagar area of Ahmedabad.
"Raw material for making the bombs arrived from Madhya Pradesh and a house in Vatva area of Ahmedabad was rented by the group to make the bombs. While some bombs were made at Yunus' residence, the rest were manufactured in Vadodara, by three SIMI activists, and sent to Surat," said police commissioner Ashish Bhatia, who led the investigations.
Crime branch officials said the two cars that were turned into deadly bombs in the Civil Hospital and L G Hospital blasts in Ahmedabad were stolen from Mumbai by SIMI activists.
The cars were handed over to the terror group in Vapi town of Gujarat and the car-lifters stayed in Bharuch with key SIMI operative, Sajid Mansuri, whose arrest, on 08/11/2008, unraveled the whole plot. The cars were later brought to Ahmedabad and fitted with the bombs.
Police have also identified the people and places from where second-hand bicycles were procured for use in the blasts.
The other 8 suspects arrested in the case of Ahmedabad bombings were: Yunus Mansuri from Bapunagar and a relative of Sajid Mansuri, Samsuddin Shaikh from Dariapur, Arif Qadri from Shahpur, Gyasuddin Ansari from Gomtipur and Zahid Shaikh from Juhapura— all were arrested in Ahmedabad city region.
Three SIMI activists —Imran Shaikh, Usman Agarbattiwala and Iqbal Shaikh—were picked up from Vadodara.
* Eventually, the case was fully solved only after the Mumbai-Arrests, on 09/24/2008.
* Related topic –
–
06/2004 -AHMEDABAD INCIDENT  
***************************
Read more ;