– 2006-7 ; ATTACKS IN PATANI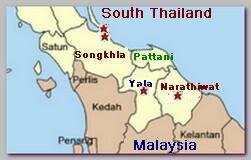 Partial list of terror attacks in the three Southern Muslim provinces of Thailand known as Patani-Raya. According to Thai police the number of fatalities in South Thailand, since attacks flared-up in 01/2004, reached 3004 on 03/20/2008.
* Yala Bombing – On 02/04/2006 a bomb exploded near a Restaurant in the Town of Yala in Southern Thailand. 27 people were wounded in the blast.
* 40 Bombs string – On 06/15/2006 morning, about 40 home made bombs exploded in different locations in Southern Thailand. 2 people were killed in the blasts. The attack was, most likely, inspired by the Bangladeshi Jamaat-ul-Mujahideen (JMB) attack, on 08/17/2005, in which 500 small home made bombs were scattered at 300 locations in 50 cities and towns across Bangladesh (see – BANGLADESH Bombings).
* Hat Yai multiple bombings – On 09/16/2006, 6 motorcycle bombs exploded, almost simultaneously, in the city of Hat Yai near the port town Songkhla, favored by Malaysian tourists. The bombes were detonated by cell phones. 3 people were killed and over 60 others wounded, many of them tourists from Malaysia.
* Bangkok Bombings – On 12/31/2006 afternoon, 3 home made bombs exploded in public places in Thailand's capital – Bangkok. 3 more bombs exploded in the evening in garbage cans in public parks in Bangkok. 1 person was killed in the second string of bombings. The Thai police claimed that Muslim rebels from the South committed the bombings. 
* Yala shooting attack – on Sunday morning 01/14/2007, 3 Buddhist men were killed by Muslim militants In Yala, the southern province of Thailand. Two were shot and one was decapitated.
* Related topics – 
–
11/2008 -OVER 60 WOUNDED IN BOMBINGS IN SOUTH THAILAND  
******************************
Read more ;