– 12/2003 RAWALPINDI DOUBLE ATTEMPT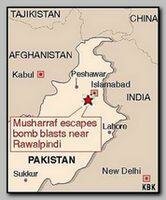 In 12/2003 Al Qaeda, with the assistance of local PAKISTANI activists, made a double attempt on Pakistan's President Pervez Musharraf's life.
The first attempt was carried out, on 12/15/2003, when about 250 kg of high quality explosive exploded under the Jhanda Chichi bridge in Rawalpindi, the administrative capital of Pakistan, when Pervez Musharraf's convoy crossed the bridge. Due to the exact timing of the explosion, which missed in seconds Musharraf's car, nobody was hurt although the Jhanda Chichi bridge collapsed totally. Pervez Musharraf survived the first attack thanks, apparently, to electronic jamming devices which blocked a signal to a remote-controlled bomb.
Exactly 10 days later, on 12/25/2003 noon, a second attempt on the PAKISTANI President was made in Rawalpindi, when two car bombs, driven by suicide bombers, rammed into his convoy. The two cars were loaded with 50 kg explosives each. The first suicide car rammed into a police vehicle going ahead of the convoy while the second one, few seconds later, exploded closer to General Musharraf's vehicle.
In the second attempt 12 bodyguards of the President were killed, 3 innocent by passers and the two suicide bombers. About 45 people were wounded. Three cars in the presidential convoy were seriously damaged, including Pervez Musharraf's car, but he escaped unharmed. There was no immediate claim of responsibility for the double attack.
The investigation revealed that the attack was organized by a terror cell affiliated to Al Qaeda and led by Abu Faraj al-Liby, a former assistant to Osama Bin laden and an operational officer of Khalid Shaik Mohammed, and by a former Air Force officer Amjad Farooqi , the chief Al Qaeda coordinator in Pakistan. The cell was formed mainly from PAKISTANI Air Force personnel who were recruited to Islamic terror by Amjad Farooqi (See – Farooqis Cell ). The two suicide bombers were "hired" to the mission, probably, by promises to support, economically, their families (see also – Shaukat Aziz Attempt).  
* Related topics – 
–
11/2007 -RAWALPINDI TWIN SUICIDE ATTACK  
02/2002 -THE BEHEADING OF DANIEL PEARL 
PROFILE -ABDUL HADI AL-IRAQI  
************ *************
Read more ;